ACTIVITIES
Crescent Beach Grocery
Visit Website
1211 Old Stickney Point Road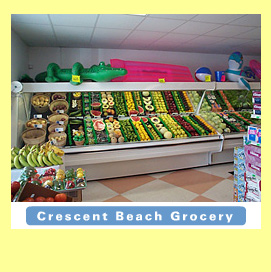 We carry a complete line of groceries, from basic staples to gourmet treats. Why waste your valuable beach time in parking lots and big-box stores when you can enjoy our comfortable surroundings, friendly staff and extensive selection right here on Siesta Key.
Whatever you need — produce, dairy, canned vegetables, gourmet cheeses, paté or that special treat for a special person — we have it in stock and at a reasonable price.
Fine Wine
Crescent Beach Grocery has the largest and most complete selection of wines on Siesta Key! Come in and browse our extensive wine collection. Take home your favorite variety or experiment with something new. Our knowledgeable staff members will be happy to assist you with your selection.
Beach Supplies
Crescent Beach Grocery has a large beach supply – we carry a complete selection for your beach supply needs. Come in and browse our extensive collection. Take to the beach your favorite beach item and enjoy our Siesta Key, Florida beach.
Great Beer
In addition to most standard domestic beers, Crescent Beach Grocery also carries an excellent selection of micro beers. Our mix 'n match program allows you to sample several different brews at 6-pack prices. If your taste runs to Flying Dog, Blue Heron, Ybor Gold or Key West Sunset Ale, we have 'em. If you are in the mood for a Porter, IPA or Hefenweisen, we have those, too.