ACTIVITIES
Heinzelmannchen Brewery
Visit Website
545 Mill St, Sylva, NC 28779, USA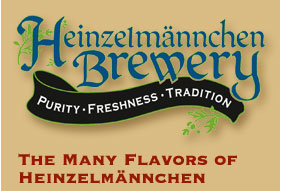 Purity, Freshness, Tradition
In a microbrewery in downtown Sylva, NC, German-born brewermaster Dieter Kuhn & his wife Sheryl Rudd are creating light, refreshing German beer made with fresh hops, wholesome grains, & no preservatives. All beers are keg conditioned & non-filtered, making them smooth & lighter in body.
Our Beers
We specialize in altbeer — the style brewed in the warmer regions of Germany since the early days of brewing. 'Alt,' the German word for 'old,' is a synonym for the traditional, old way of brewing dark, top-fermented beer. Our beers are light and refreshing and complement your meal or you can enjoy them anytime.
Tap Room
You can enjoy Heinzelmännchen beers at the brewery's Tap Room with a flight of samples or by the pint, or in our take-home growlers, 5- and 15-gallon kegs. The 2-liter growlers are sealed so the beer stays fresh; and there is a minimal charge for fill-ups.
The Brewery doesn't sell food, but you may bring your own from one of our local eateries and enjoy it in our Tap Room; or visit a nearby restaurant that carries Heinzelmännchen on tap. Our beers complement any meal, and there is quite a variety of great fare in the area — everything from pizza to fine dining.
The non-alcoholic root beer and birch beer are available in ½ gallon containers at the brewery, as well as by the 5- and 15-gallon keg.
Take Some Home
Heinzelmännchen beer is sold in 2-liter take-home growler glass containers, and 5-gallon or 15-gallon kegs.
The convenient growlers are imported from Germany and have porcelain flip-top lids to keep the beer fresh. They hold about four 16 oz. pints. After you purchase a growler from a range of four styles and prices, you can stop by the brewery for fill-ups that are $12 and $15 depending on the beer.
Using the growlers means there are no beer bottles or cans to dispose of, you know the beer is fresh, and our beer costs less because we don't have expensive bottling equipment.
The beer must be kept refrigerated. Unopened, it will keep for 6-8 weeks; once opened, 1-2 weeks (4 openings and closings).
The 5-gallon kegs hold about 40 16-oz. pints and range from $65-$75; the 15-gallon kegs hold about 120 16-oz. pints and range from $165-$195.