ACTIVITIES
ThreeSixty North Bar & Grill
Visit Website
360 N Palm Canyon Dr. Palm Springs, CA 92262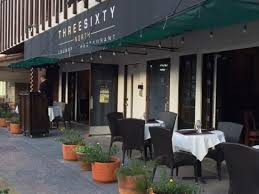 Italian
Overlooking Palm Canyon Drive in Downtown Palm Springs, ThreeSixty North is family owned and operated since 2013. Tony Gallardo brings well over 20 years of excellence and experience in the world of dining and hospitality. He has instilled the passion and friendliness in his family and business that can be felt from the moment you walk in.
ThreeSixty's ambiance is a dynamic blend of Palm Springs elegance and comfortable-informality. We offer a tradition of culinary excellence, featuring a fresh approach to American and Italian cuisine.
Join us for dinner nightly and for our traditional Champagne Sunday Brunch! Also: Happy Hour from 4:00pm to 7:00pm and 10:00pm to close. Another perk: live Jazz entertainment can be enjoyed most nights.
Phone: 760-327-1773
ThreeSixty draws diverse crowds for food and/or drinks. Whether you're looking to have a romantic date or family outing, to a corporative experience, we are your destination. Guess what?