ACTIVITIES
Trattoria Sbandati
Visit Website
1444 NW College Way, Bend, OR 97703-1419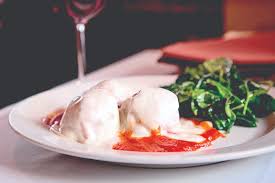 Dinner at the Trattoria is a truly intimate and authentic Italian experience. Our a la carte menu, served Monday through Saturday, 5pm to close, offers a rotating selection of seasonal dishes. Everything we cook is made from scratch with all of the finest ingredients imported from Italy and the best local produce and meats.
At Trattoria Sbandati, an almost decade old restaurant on Bend's west side, Chef Juri Sbandati serves polpette, a traditional Tuscan meatball dish inspired by his grandmother.
Chef Juri Sbandati traces his earliest culinary memory to his grandmother's kitchen in Florence, Italy. A small stove emanating wonderful smells, cluttered with an array of little pans. A white refrigerator, the kind from the 1950s that you had to open with a floor pedal. A classic red Gaggia espresso machine that chu  gged along for decades. "Her house was perfect," said Sbandati. "Her food full of love."
For Sbandati, food is comfort. Food is family. Nowhere is that more palpable than in one of his signature dishes, Polpette. Three ground beef meatballs with a texture that cooks dream of achieving are topped with beautifully balanced tomato sauce and melted mozzarella, served with a side of sautéed spinach. Hearty, unfussy and impeccably executed, it's honest food and is clearly made with love. For Sbandati, cooking this dish, as well as so many others on his menu, is "poetically personal" and you can taste it.
Trattoria Sbandati, an intimate restaurant located at the bottom of NW College Way in Bend, has been serving carefully handcrafted pastas and other authentic Tuscan dishes since 2009. The Polpette has never gone off the menu.
When asked about his meatball secrets, he offered four morsels. Number one: Share them with people you love; number two: Put some bread in the mix; number three: Add Parmigiano-Reggiano, not parmesan; and number four (the cardinal rule): Never mix them with spaghetti! (Go ahead and ask for spaghetti and meatballs if you dare, and incur Juri's wrath.)
Before she died a few years ago, Sbandati's grandmother would speak with him on the phone. During those conversations, she would ask him what he was cooking and how he was making it. Inevitably, he was doing something wrong and would get an earful. "I wish I could get yelled at again," he said. "I miss her every day."
Instead, he cooks in honor of his most cherished memories of her and for the chance to make his family and others feel those moments through his food.
1444 NW College Way, Bend, OR 97703-1419
+1 541-306-6825