ACTIVITIES
Watercress Vietnamese Bistro
Visit Website
415 N Palm Canyon Dr. Palm Springs, CA 92262.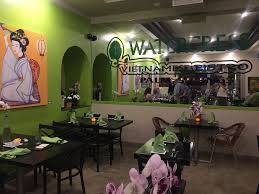 Vietnamese
In the center of Downtown Palm Springs, the exquisite sites and places to eat and drink are endless, however there is one place you can go where you can have both.  At Watercress Vietnamese Bistro, the menu and location is what makes it so special. Inside and out the Watercress Bistro has A lot to offer.
Located in the heart of Palm Springs, they are focused on keeping it healthy yet delicious. Watercress offers Vietnamese, Thai and other Asian options, as well as a vast vegetarian and vegan menu. It's also in the beauty of how there dishes are presented that makes eating there a divine experience.
Monday-Thursday:  11am-9pm
Friday: 11am- 10pm
Saturday dinner: 3pm-10pm
Sunday Dinner: 3pm- 9pm
BRUNCH:  Sat-Sun:  10am-3pm
HAPPY HOURS:  All Day