ACTIVITIES
533 Viet Fusion
Visit Website
1775 E Palm Canyon Dr Suite 625, Palm Springs, CA 92264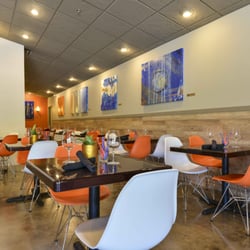 Asian Fusion, Vietnamese
533 Viet-Fusion's Story
The story of the number 533 comes from the historic USS Cheboygan County, a Land Support Tanker (LST) in the U.S. Navy that had been one of the first to land at Normandy on D-Day in World War II. In April 1975, it was anchored off Vietnam, broken, beat up and with only one engine functioning. It was during the Fall of Saigon that nearly 300 Vietnam refugees made their way to the USS Cheboygan County and spent seven days hobbling across the ocean toward Malaysia and a future in the United States. One of the passengers was, then 10-year-old, Ahn ho Rock who later founded a restaurant in Palm Springs called Pho 533.
Pho 533 was a classic shopping mall pho-style venue with great recipes and a great location. In 2015, current owner and chef, Chad Gardner heard Pho 533 was for sale. "I had a vision of what I wanted to find," says Gardner, "I have always wanted to blend classics like pho and vermicelli with contemporary Vietnamese and my own infused dishes. I feel incredibly fortunate that our guests have loved it and embraced us."
Since taking charge in 2015, Gardner has updated and expanded the venue, added the full bar, and the popular spring roll bar. Chad's passion for the fresh ingredients and bold flavors of Vietnamese cuisine combined with his personal love of creating edible art has led to 533's current incarnation of Viet-fusion: time-honored Vietnamese cuisine infused with his own culinary flair for artful presentation stimulating all of the senses. In 2017, he updated the name from Pho 533 to 533 Viet-Fusion to highlight the evolution and future ideas for the restaurant.
Since 2015, 533 Viet-Fusion has been recognized by trusted publications like LA Eater, Forbes and Zagat as one of the best places to dine for locals and visitors in Palm Springs.
At 533 Viet-Fusion, we are honored to have you join us in a journey that began over 40 years ago and continues into the future.
PHONE
760-778-6595
HOURS
Opening Hours
Monday11:30 am – 9:00 pm
Tuesday11:30 am – 9:00 pm
Wednesday11:30 am – 9:00 pm
Thursday11:30 am – 9:00 pm
Friday11:30 am – 9:00 pm
Saturday11:30 am – 9:00 pm
Sunday11:30 am – 9:00 pm