ACTIVITIES
Baldy's Barbeque
Visit Website
235 SW Century Dr. Bend OR 97702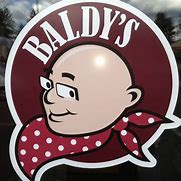 Baldy's Barbeque is a family owned and operated business with 3 locations in Central Oregon. It's definitely a locals favorite throughout the year.
When you visit Central Oregon be sure to make this a lunch or dinner stop with the family. Choose from a variety of smoked meats including turkey, ham or salmon. If you prefer fried cat fish and okra they have that too. When you are done stuffing yourself with a pulled pork or chicken platter top it off with the cherry crisp or old fashioned root beer float. One thing is sure, you won't leave hungry at Baldy's Barbeque.
In the late 60's a boy was born into the world the same way he'll leave it…bald. With an Italian father and an Irish mother, two things were certain – plenty of food and lots of children – 8 to be exact (7 boys, 1 girl). The nucleus of the house was the kitchen – where cooking and eating were the activities of choice. All seven boys grew into men. Bald men. Five of them went into the restaurant business. (Their father was a dentist — go figure).
Growing up in the suburbs of Chicago, Baldy met a southern-raised man who shared his secret recipes and the love needed to create good barbeque. This man toured the country, winning award after award for his mouthwatering fare…and sometimes Baldy tagged along.
Having honed his skills in Aspen, Colorado, Baldy set out to find the perfect town to raise his family and spread the love. He found it in Bend, Oregon. You can find the bald man in his little red BBQ shack on the road to Mt. Bachelor. Or at his stompin' grounds in Redmond. Or maybe in the rockin' new East side spot? Stop by soon…you'll be glad you did.
Happy Hour 4:00-6:00 pm Monday-Friday
Westside Bend
PHONE: (541) 385 RIBS
HOURS: OPEN EVERY DAY 11AM – 9PM
Eastside Bend
PHONE: (541) 388-4BBQ
HOURS:  M-F: 11AM – 9PM
SAT-SUN: 8AM – 9PM
Redmond
PHONE: 541-923-BBQ1 (2271)
HOURS:  M-F: 11am – 9pm
Sat-SUN: 8am – 9pm