ACTIVITIES
Bill's Piza Palm Springs
Visit Website
119 S. Indian Canyon Dr., Palm Springs, CA, 92262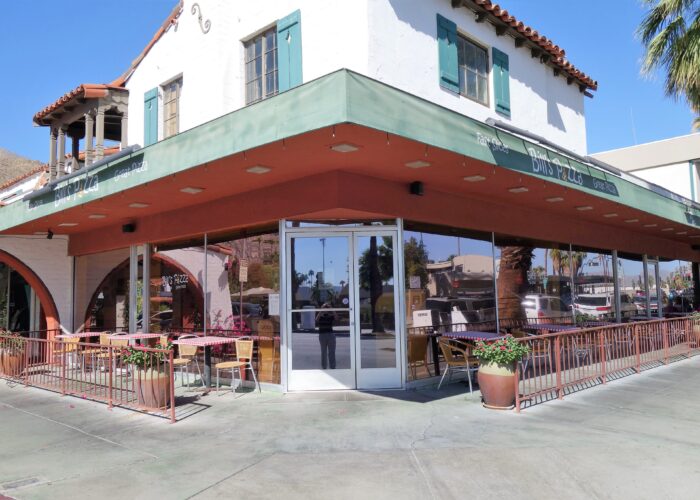 Pizza
Bill's Pizza Palm Springs serves some of the finest pizza you will find in the world. Bill's quest of making the best pizza possible led him to Italy and around the United States exploring a wide range of pizza styles and techniques including a pizza-making seminar with Chris Bianco, winner of the 2003 James Beard Award for Best Chef in the Southwest.
We have assembled an award-winning kitchen staff with over 70 years of collective culinary experience.
TASTE THE FRESHNESS
We use only the finest ingredients—as we would use in our own homes.
Extra Virgin Olive Oil
Imported pizza flour from Italy
Sourdough pizza crust (has a low glycemic index value). Made daily.
Schreiner's custom made sausage using lean pork shoulder and no nitrates.
Fresh vegetables oven roasted in extra virgin olive oil.
Our pizzas are all served on a crust saver to keep our crust at its highest quality.
We use gas fired brick ovens …not conveyor style pizza ovens.
Many fine ingredients: caramelized onions, roasted garlic, fresh basil, cilantro, fresh jalapeños, sheep's milk feta imported from France, fresh mushrooms…. "just the best of the best".
Our menu is designed for our guests to create their own pizzas at a very affordable price.
Try our creations, 22 and counting, or choose your own ingredient combinations.
We are able to use superior ingredients and at the same time keep our prices low by not accepting credit cards and by doing no advertising. Our food and service sell themselves.
Join Us
HAPPY HOUR
Cheap Drinks Every Monday (all day with food purchase)
Italian Wines – $2.00
Bud Light – $.75
Micro Brews – $2.00
Stone IPA
Mermaid's Red
Fat Tire
Eel River Porter
Anchor Steam
Shock Top
Arrogant Bastard
Stella (Bottle)
Contact Us Now!
760.325.5571
HOURS OF OPERATION
Monday-Wednesday 11:00 am – 9:00 pm
Thursday-Saturday 11:00 am – 10:00 pm
Sunday 12:00 pm – 9:00 pm