ACTIVITIES
Brandini Toffee Palm Springs
Visit Website
132 S. Palm Canyon Dr.Palm Springs, CA 92262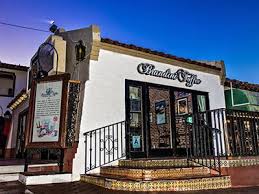 Ice Cream / Frozen Treats
The Most Important Ingredient is Passion
Brandini Toffee began with a simple act of encouragement; a family friend who inspired a young confectioner to pursue his creative passion for making sweets with a lesson in how to make toffee. Perfecting his recipe over time, the toffee became the aspiring candy-maker's gift of love and chocolate decadence for holidays, birthdays, and just-because occasions for family and friends. This confection made with affection would soon become the catalyst between two life-long friends and their families to share their scrumptious gift with people around the world.
In 2006, our young candy-maker Brandon Weimer and his innovative best friend, Leah Post, were presented with an opportunity to go on a class trip to Italy during their sophomore year of high school. With unwavering optimism, Leah and Brandon began to sell their toffee as a fundraiser to pay for their trip. Within just months of introducing their gourmet almond toffee, they surpassed their funding goals. Upon returning from their adventures in Italy, Brandon and Leah set a new goal to grow their fundraising enterprise into a fun family business committed to quality and community.
Founded in the Palm Springs area, Brandini Toffee is enjoyed by chocolate-lovers and toffee aficionados around the world, and is the first toffee company to receive the coveted gold sofi Award. The family owned business has become a featured favorite on Oprah Winfrey's O List, The Martha Stewart Show, The Food Network and our toffee has even been served to the President of the United States. The company is dedicated to handcrafted toffee created with premium, preservatives-free and GMO-free ingredients. This is the recipe that has led to three Brandini store locations, a fast-growing wholesale segment, and shipments world-wide.
The Post and Weimer families have built Brandini Toffee on a foundation of inspiring passion and giving back.
On any given day you may find school children touring the Brandini Toffee shops to learn how it's made while receiving delicious encouragement to pursue their own dreams and passions in life. Brandon and Leah often give back by sharing their story and experiences to groups of all ages, inspiring the next generation of entrepreneurs.   Brandini Toffee also donates thousands of pounds of product annually to local non-profit organizations with the simple aim of helping others accomplish their goals.
Our Simple Mission:
What began in 2006 as a way to earn money for a student trip to Italy has grown into a thriving business. Brandini Toffee is more than a creator of the world's most delicious almond toffee, it is a family-owned company, handcrafting simple ingredients into sweet indulgences that make people say Mmm…
Brandini Toffee welcomes you into the family, inviting you to share in the gift of giving something special to that someone special.
132 S. Palm Canyon Dr.
Palm Springs, CA 92262
(760) 200-1598
Sunday – Wednesday: 10am – 10pm
Thursday – Saturday: 10am – 10:30pm