ACTIVITIES
Cascade Lakes National Scenic Byway
Visit Website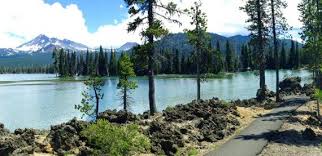 The Cascade Lakes National Scenic Byway begins as Century Drive at the locally nicknamed "Flaming Chicken" roundabout at 14th St and Galveston Ave on Bend's west side. The Cascade Lake Highway is a drive of 66 miles and with stops for exploration, will take you 3-5 hours to complete. The road opens seasonally in June (depending on snow conditions) and closes in October beyond Mt. Bachelor. As you leave Bend's city limits and enter Deschutes National Forest, drivers pass a road accessing two significant falls and wonderful hiking opportunity along the Deschutes River. Climbing quickly, you'll pass the first of the series sno-parks that allow access to snowshoeing and cross-country skiing in the winter and hiking and biking in the summer. After a sweeping turn with a magnificent view of Mt. Bachelor, you'll pass the ski area and enjoy an extraordinary view of Broken Top and the Three Sisters, enter Dutchman Flat, and then reach the first of the string of Cascade Lakes with Todd Lake. This is also where things begin to get very interesting from a geologic perspective. After passing several more lakes, drivers will reach the first opportunity for services at Elk Lake resort. Along this drive, you can fly fish, see the headwaters of the Deschutes River, swim, hike, climb a mountain, see wildlife, get ice cream, launch a kayak and soak your soul in the outdoors in any other variety of ways, before the Cascade Lakes Highways ends at OR-58 near Crescent and Odell Lake.
Picture yourself on a journey through ancient volcanic landscapes dotted with shimmering alpine lakes and pristine forest. Are you pinching your arm to make sure it's not a dream? Knock it off — you should really have both hands on the wheel as you drive the Cascade Lakes Scenic Byway and take in the abundance of natural beauty Central Oregon has to offer.
The Cascade Lakes Scenic Byway is a historic highway that starts on Century Drive and winds its way through 66 miles of towering mountain peaks and lakefront vistas. It was selected by Scenic America as one of the nation's ten most important byways.
The route offers stunning mountain views including Mt. Bachelor, Broken Top, South Sister, and more. Stop along the way at one of 14 alpine lakes to take in an abundance of recreation, history, and wildlife. Mount your horse for a trail ride at Todd Lake. Grab your fly rod and cast a line in the water at Hosmer Lake. Snap photos of the perfect turquoise water on a hike around Devil's Lake. Rent a standup paddleboard or boat to explore Elk Lake or Cultus Lake.
Whether you're looking for family-friendly camping, a high-speed adventure in a motorboat, or a romantic picnic at a secluded locale, you'll find everything you're looking for along the Cascade Lakes Scenic Byway. The byway is open late-spring through fall, but some sections are closed for snow during the winter months.
Before you head out, make sure you stop by the new Cascade Lakes Welcome Station to pick up a map, purchase your recreation pass, browse interpretive guides, and learn more about the Deschutes National Forest.
Phone: 541.383.5300