ACTIVITIES
EIGHT4NINE Restaurant & Lounge
Visit Website
849 N Palm Canyon Dr, Palm Springs, California 92262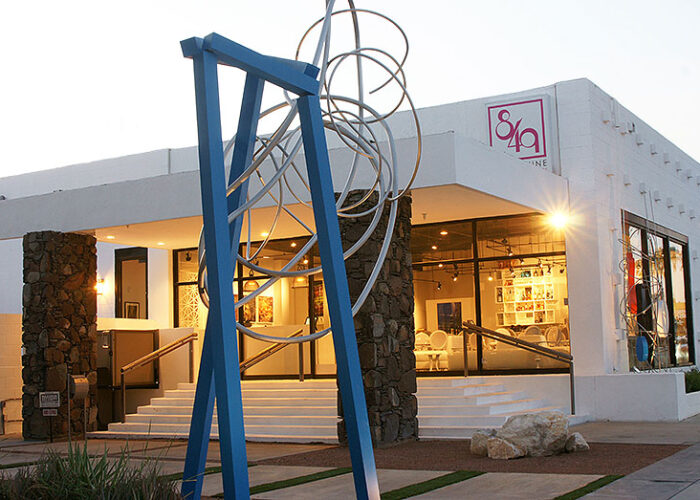 American, Casual Dining
Welcome to EIGHT4NINE Restaurant and Lounge
Located in the fashionable Uptown Design District of Palm Springs, EIGHT4NINE Restaurant and Lounge offers a welcoming and friendly atmosphere whether it's for Breakfast, Lunch, Dinner, Weekend Brunch, or Happy Hour.
Our singular goal is to provide you the best dining experience possible, whether looking for an intimate dinner for two or if you want to celebrate life's special moments with hundreds of friends.
Sip
EIGHT4NINE offers Happy Hour cocktails and menu items all day every day! The elegant and spacious lounge features a back-lit onyx bar which makes a dramatic statement. The lounge with its chic and swanky atmosphere is the perfect Happy Hour prescription for fun. The lounge comprises furnishings that offer maximum comfort to entice guests to linger with comfortable bar stools and white patent leather Louis XIV ghost chairs, as well as low and high cocktail tables to suit your mood.
Savor
EIGHT4NINE's tempting menu is the perfect counterpoint to the understated white décor. The eclectic and colorful menu selections feature a fusion of comfort food, ethnic influences, and bold originality that are reflected in the menu's superb culinary creations.
See
To see and be seen, EIGHT4NINE is the perfect place to tap into the community's pulse point. It has become known as a vital part of the community for hosting numerous high profile charity events and fundraising receptions.
Stroll
Conveniently located in the heart of the fashionable Uptown Design District, EIGHT4NINE is steps away from countless specialty shops and boutiques that offer midcentury modern, retro, and vintage furnishings, home décor, clothing, books, and gifts. After dining at EIGHT4NINE, enjoy a casual stroll along this dynamic trendsetting shopping district.
Our Story
Prior to its extravagant grand opening in September 2015, EIGHT4NINE Restaurant and Lounge was a large historic building that formerly served as Palm Springs' first U.S. Post Office.
Today the cavernous 1954 building has been elegantly transported into a minimalist modern space with striking crisp white interior punctuated with strategically-placed hot pink accents.
Our menu features a celebration of Modern American Cuisine focusing on both presentation and flavor, incorporating diverse culinary influences while utilizing the freshest specialty produce, seafood and meats available. Headed by Executive Chef Israel Jimenez, all dishes are prepared from scratch with creative flair. Our exquisite dessert selection has been created by Pastry Chef Albert Gonzalez and his team.
PHONE:(760) 325-8490
HOURS
LUNCH/ DINNER
Monday11AM – 3PM5PM – 10PM
Tuesday11AM – 3PM5PM – 10PM
Wednesday11AM – 3PM5PM – 10PM
Thursday11AM – 3PM5PM – 10PM
Friday11AM – 3PM5PM – 11PM
Saturday Brunch9AM – 3PM5PM – 11PM
Sunday Brunch9AM – 3PM5PM – 10PM
BAR MENU IN THE LOUNGE
EVERYDAY11AM – Close