ACTIVITIES
El Matador State Beach
Visit Website
32350 Pacific Coast Hwy, Malibu, CA 90265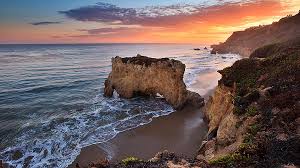 El Matador State Beach
El Matador Beach is one of three beaches within Robert H. Meyer Memorial State Beach. El Matador is the most popular of the three and the closest to Malibu. The parking lots for each beach are well-signed along Pacific Coast Highway in western Malibu. El Matador has a parking lot on the bluff with picnic tables that look out over the Pacific Ocean. A trail descends through unique eroding formations on the face of the bluff then stairs take you the rest of the way to the beach.
Beautiful sea stacks are on the beach and in the surf. This is a popular spot to photograph swimsuit models and stunning sunsets. Explore north on the beach to caves and arches in the rocks. The largest cave faces the ocean at the bottom of a huge flat rock that is connected to the base of the bluff. It's best to visit these natural features at low tide. Continuing your walk north leads to La Piedra State Beach. If you walk south you will pass in front of stunning homes on your way to Lechuza Beach.
Along the coast of Malibu are some of the best beaches in the entire United States, all of them are pretty flawless but for my money, the best beach is El Matador State Beach. If you can find parking in the super small lot, then you are in for a real treat. The beach is packed with long stretches of sand, sea caves and massive rocks.
Details
8 dollars for parking
8 AM – Sunset
Only 20 spots in the lot
Steep walk down to the beach
Bathroom at trailhead