ACTIVITIES
Fly & Field Outfitters
Visit Website
35 SW CENTURY DR, SUITE 100, BEND, OR 97702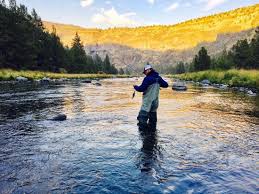 For nearly two decades we here at Fly and Field Outfitters have served the Central Oregon fly-fishing community with the finest gear, the best guides, and friendliest staff. Our family-owned and operated business takes great pride in offering the best experience in the region. Whether you're coming to the area only in need of some flies and a map, or you and yours want to explore the fly-fishing adventure for the first time and need everything, Fly and Field Outfitters can take care of you. Our beautiful fly shop on the popular Westside of Bend has all the top-performing equipment and flies combined with a casual, friendly staff eager to make your time in the store fun and informative. Our guide service prides itself on providing the best experience for each client. We take time to decide on the prime fishery for your trip and ensure an adventure not soon to be forgotten. All our guides are deeply passionate about the local fisheries and enthusiastic about sharing them. We are unified in our love for our region and our eagerness to have every guest, every client remember us for our commitment to their time with us. Stop by Fly and Field Outfitters and see why we've developed a reputation as the fly shop in Central Oregon!
SHOP HOURS
MON
7:00am-7:00pm
TUE
7:00am-7:00pm
WED
7:00am-7:00pm
THU
7:00am-7:00pm
FRI
7:00am-7:00pm
SAT
9:00am-5:00pm
SUN
9:00am-5:00p
Phone:
541.318.1616
866.800.2812
Professional Fly Fishing Guides – Ready to take you on an adventure.
What began as a hunch, an idea, a casual conversation between friends or family: A guided fly-fishing trip in Oregon! And now here you are! So let's take a minute to get an overview. You will find pages here on the site where each of our Local Waters is detailed. Feel free to click over at any point, but on this page, we will give a broad description of our approach and attitude towards being expert Central Oregon fly fishing guides.
First, please understand that you need zero equipment to go on a guided trip with us! We supply all the essentials; rod, reel, waders, and boots are included in the cost of every trip we offer.  You just need a fishing license and some flies, all of which we can provide at our shop.
It is equally important to understand that you do not need to be an experienced angler to go on a guided trip with us. We specialize in taking out complete beginners and getting a bent rod in their hand! Here in Central Oregon, we are fortunate to have fly fishing opportunities for people who have quite literally never picked up a rod. Check out our page on the Crooked River. It is less than an hour from our shop and full of eager, native trout and whitefish. If you've never fished, this is most likely where we will go. Once there, you'll realize why!
More experienced anglers might prefer a day on the Fall River for beautiful, difficult to fool spring creek rainbows and browns. Another wonderful option is a drift down the mighty and famous Lower Deschutes for the chunky and brutally strong native Redband rainbows. Our professional river guides are on these waters year 'round and understand what it takes to connect with fish better than anyone in the business.
Our flagship Oregon Guided Fishing Trip is a multi-day Deschutes Camp adventure on the Lower Deschutes River. This is one of the ultimate fly-fishing experiences you'll ever embark on. Our guides and "baggers" (they set up camps and prepare meals – basically pamper you to death!) are amongst the most experienced in the business. This is a trip of a lifetime and we work so hard to make sure you'll remember it forever and yearn to do it again!
Within an hour's drive from the shop, we have the Cascade Lakes that fish wonderfully from May through October. Depending on your skill level and aspirations, we can take you to a lake where you will have lots of opportunities to catch average-sized trout or a lake where you might encounter the biggest trout of your life! Our stillwater guides have comfortable, purpose-built boats for covering as much water as necessary…in style!
All of our guides are experienced Central Oregon fly fishing anglers. We pride ourselves on being patient, encouraging, and diligent. Each of our waters demands a different approach and we customize our tackle and techniques to ensure you have the best chances of fooling fish. After all, being there is great, hooking fish is even better! Our guides will work flat out from the first cast till last to make sure you have every opportunity available to have a bent rod in your hand and a smile on your face.
Take a few minutes to check out the variety of waters above, all located within an hour of Bend, Oregon. We are sure you will find one to your liking. Then take a minute to call the shop at 1-866-800-2812 and let's talk you through every possibility and every aspect of what your day with us will consist of.
Live the experience with Fly & Field Outfitters!