ACTIVITIES
Frogs Leap Public House
Visit Website
44 Church Street, Waynesville, North Carolina 28786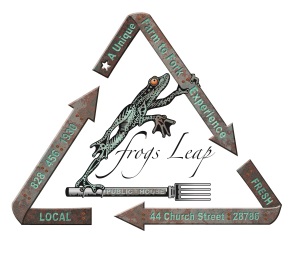 A Unique Farm to Fork Experience:
Innovative Southern Food with a Local Backbone & Home Grown Libations
Lunch: Tuesday to Saturday 11:30-2:30
Dinner Tuesday to Thursday 5-9, Friday to Saturday 5-10
We stop seating 15 minutes prior to closing except for reservations.
Voted #1 "Fit For Foodies" restaurant in Asheville & WNC 4.14.16
Voted #3 Best Overall Restaurant in Asheville & WNC 4.15.16
Voted #2 Best Overall Cuisine in Asheville & WNC 4.15.16
Frogs Leap Public House is a farm to table country pub at the corner of Church and Montgomery Streets, built in 1918 as the southeast's first Buick dealer just one block south of Main in the heart of historic downtown Waynesville. FLPH is focused on the culture, art, music, wine, beer and especially the food of Western North Carolina. Owners Toni & Kaighn B. Raymond have come to Waynesville to open Frogs Leap Public House, their debut restaurant, after spending the past 20 years fine-tuning their concept while running fine dining restaurants in Georgia, Tennessee and beyond.
Like the City of Waynesville itself, FLPH is Southern down to its roots, but draws influences from around the world.  The food is fresh and local, the libations are home grown, the music is American and has a beat. FLPH is home to a family with a passion for serving world class food, wine, and spirits in a soulful, comforting atmosphere. This is a place where business diners eat alongside families and foodies on any given day. The menu may feature duck confit and black truffles along with BBQ and pimento cheese. It's a place to go for a local craft beer after work or to celebrate a special occasion. FLPH offers a carefully selected list of fine wines by the bottle and glass, award winning craft brews both on draft and in bottle. A sipping list including single malt scotches, bourbons, rye, brandy, port and a seasonal list of home grown cocktails created with house-made syrups, infusions and garnishes.
FLPH always uses the highest quality local ingredients to create ever changing menus that represent a fresh take on Southern Food. We source our meats, cheese, poultry, seafood, produce, and specialty products from a bounty of North Carolina farmers, ranchers, and artisans whenever possible. At FLPH, seasonality, sustainability, and buying local are our core culinary and business philosophies, and are achieved through preparing the best food, using the best ingredients, supporting our local economy, and conserving our natural resources. Frogs Leap's great locally sourced ingredients are further enhanced through natural cooking techniques, an authentic wood-burning pizza oven, a slow smoker and an Argentine wood grill impart the warm glow of the North Carolina woods to our dishes.
Frogs Leap is an environmentally responsible business. We print menus in-house on recycled paper to allow creative use of seasonal, local ingredients while maintaining a consistent menu that you will recognize through the seasons and return for. We recycle, reduce energy consumption and convert our used cooking oil into bio fuel. We are proud of the fact that we are recycling and composting nearly every ounce of product that comes through our doors.  We have no dumpster as we recycle or compost everything and hope to one day return our compost to a garden where we will grow delicious, homegrown vegetables and herbs that will complete the cycle as they make it directly to our guests through the Frogs Leap Public House menu.