ACTIVITIES
Gilligan's Island Bar
Visit Website
5253 Ocean Blvd, Sarasota, FL 34242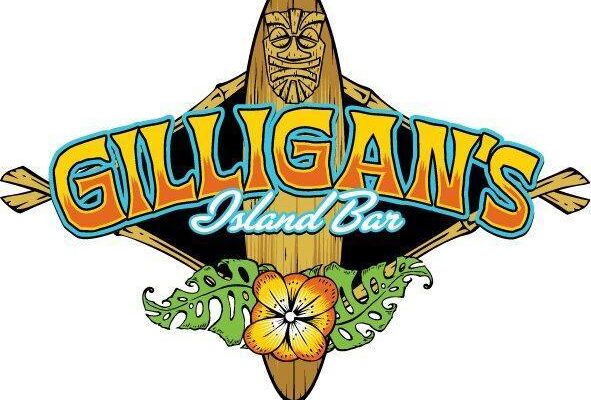 You find yourself wandering into Siesta Key Village after an epic day on the #1 Beach in the USA. Sandy feet and salty skin, searching for shade and refreshment. You wander right into Gilligan's Island Bar & Grill and you couldn't have picked a better spot. Founded in 2001, we have plenty of experience with making sure both locals and visitors are having the time of their lives. We pride ourselves on offering the best quality of foods, cocktails, service, atmosphere and local entertainment on the Key.
Come on in and check us out for yourselves.
Hours: 11:00AM – 2:00 AM
When you arrive you are presented with several options on where to spend your time at Gilligan's. Take your time, look around a bit.
From the street you couldn't help but notice our new Tiki Bar and Thatched Tiki Roof. This is easily the biggest Tiki Bar in the Sarasota area and maybe Florida and has quickly become Siesta Key's favorite go to location for wasting the day away in Paradise. But don't stop there. Stroll inside and for most of the day you will be treated to some of Siesta Key's best live bands that play on our front deck area daily from 6-10pm and weekends from 2-10pm. Take your picture in front of our VW Bus that we parked in front of our Kitchen. All our delicious foods are served hot right out the side window of this van. A bit further and you find yourself in the Gilligan's Main Bar area which exudes a certain Old Florida Charm complete with surfboards, A/C, numerous flat screen T.V's, great service and almost always a great collection of salty locals enjoying a well deserved break in the day. With your tropical libation in hand, head outside to our Back Beach Patio and enjoy some relaxation under the palm trees. On cool nights we have a fire pit going to keep with the feel of paradise. This area is one of Siesta Keys best kept secrets. Have the hostess seat you on the Voodoo Deck, out in the sunshine or my absolute favorite spot on the Lelu deck tucked back in under the Palm Trees and Hibiscus and enjoy your meal Florida style. At night the flickering Tiki Torches and cool breeze off the Gulf are exactly what you have been looking for.
Make sure to poke your head in the door of CaliFlorida Surf & Skate Shop located right on the back Patio here at Gilligan's. Grab some new beach attire, rent a bike or some SUP Paddle boards or just watch Blake shape a custom CaliFlorida longboard skateboard for some lucky soul. Chances are you won't want to leave without one.
Bit of an early riser? Love your morning coffee? Then you don't want to miss an opportunity to visit my wife Jennifer at Lelu Coffee Lounge located right next to Gilligan's. Lelu is open for breakfast starting at 7am offering the best coffee around with a wide selection of craft roasted beans, freshly brewed coffee, espresso based drinks and fresh fruit smoothies. Do yourself a favor and come have a great breakfast of fresh local eggs, black beans and rice, fried plantains and crispy home fries. Sit on the back patio and watch the Parrots play in the palm trees and enjoy the quiet of a beautiful Florida morning. On a perfect day you can hear the wind in trees, the waves on the beach and the light reggae playing in the background while you throw back that scratch made pancake. Not a bad way to have breakfast!
The short story here is to have the hostess seat you and let one of our team take great care of you. The drinks, food, service, atmosphere and entertainment are unbeatable here on Siesta Key. We pride ourselves on using local suppliers and fresh products including wild caught traceable sustainable fish from reputable sources. We LOVE our Beach and We LOVE our Ocean! We want to be able to enjoy it forever.
From the minute you walk in and see our Tiki Bar and our old VW Bus in the kitchen, you know you are in for an unforgettable experience here in Paradise. Order a Tropical Libation and enjoy a fresh Grouper sandwich or a platter of Snow Crab. You prefer something a little more fun? Do not hesitate to order one of our fresh grilled handmade burgers. We prepare our burgers daily using only fresh Black Angus Ground Beef, lightly seasoned to enhance that beef flavor. Topped with locally supplied produce and served on a freshly baked brioche bun delivered daily from St. Armand's Bakery.
Wash all that down with one of our many hand crafted Tropical Libations or a Pint from our selection of over a dozen local Craft Beer or Classic brand Selections.
Whether its Breakfast, Drinks, Dinner, Dancing the night away, Sitting back and enjoying a band or the sound of the waves, Longboards, Burgers or Mai Tai's. We got you covered. Live life a little and Get into Gilligan's to "Get your Island on!".
Sandy feet are always welcome.