ACTIVITIES
Grammy Museum
Visit Website
800 W Olympic Blvd, Los Angeles, CA 90015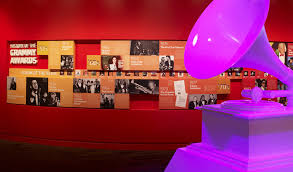 GRAMMY Museum
The GRAMMY Museum explores and celebrates the enduring legacies of all forms of music; the creative process; the art and technology of the recording process; and the history of the GRAMMY Awards, the premier recognition of recorded music accomplishments. The GRAMMY Museum is a non-profit organization dedicated to cultivating a greater understanding of the history and significance of music. Paying tribute to our collective musical heritage, the Museum explores and celebrates all aspects of the art form—from the technology of the recording process to the legends who've made lasting marks on our cultural identity. In 2017, the Museum integrated with its sister organization, the GRAMMY Foundation, to broaden the reach of its music education and preservation initiatives. As a unified organization, today, the GRAMMY Museum fulfills its mission of making music a valued and indelible part of our society through exhibits, education, grants, and public programming.
CONTACT US
800 W. Olympic Blvd., Ste. A245
Los Angeles, CA 90015 USA
213.765.6800 (213.725.5741 for Group Tours)
MUSEUM HOURS
Hours of Operation*:
Monday – Thursday: 10:30am – 6:30pm
Friday: 10:30am – 8pm​
Saturday: 10am – 8pm​
Sunday: 10am – 6:30pm​
The Museum will be closed on Thanksgiving and Christmas Day. In addition, please make note of the following holiday hours:
Monday, Dec. 24: closing at 5 p.m.
Monday, Dec. 31: closing at 5 p.m.
Click here to review Frequently Asked Questions..
Tickets
ADULTS: $15.00
COLLEGE STUDENTS: $11.95 (18 years and older, Valid ID Required)
SENIORS: $11.95 (65 Years and Older)
YOUTH: $10.95 (6-17 Years)
MILITARY: $10.95 (Valid ID Required)
GROUPS: Group discounts available for groups of 10 or more people. For more information on group tours, click here.
CHILDREN: FREE (5 years and under)
MEMBERS: FREE
GET TICKETS
LOCATION
The GRAMMY Museum is located at 800 W. Olympic Blvd., Los Angeles, California (on the corner of West Olympic Boulevard and Figueroa Street), in the L.A. LIVE district. The Museum entrance is located on Figueroa Street between Fleming's and Cleo.
MUSEUM PARKING AT L.A. LIVE
Located in downtown Los Angeles, the GRAMMY Museum is part of the L.A. LIVE district. There are nearly 4,000 parking spaces immediately adjacent to L.A. LIVE, and more than 16,000 parking spaces available within a 7-10 minute walk to the district. Convenient on-site parking is also available. For the most up to date parking information, visit www.lalive.com/visitor-center/parking.
L.A. LIVE – EAST GARAGE (LOT E)
L.A. LIVE – WEST GARAGE (LOT W, GATES E AND F)
L.A. LIVE – WEST GARAGE (LOT W, GATE B)
VICINITY PARKING
PARKING MAP FOR L.A. LIVE CAMPUS