ACTIVITIES
Griffith Observatory
Visit Website
2800 E Observatory Rd, Los Angeles, CA 90027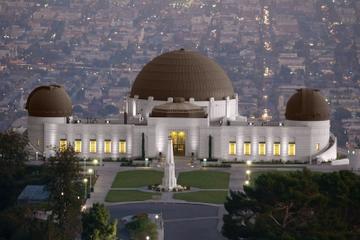 Griffith Observatory
Griffith Observatory is an icon of Los Angeles, a national leader in public astronomy, a beloved civic gathering place, and one of southern California's most popular attractions. The Observatory is located on the southern slope of Mount Hollywood in Griffith Park, just above the Los Feliz neighborhood. It is 1,134 feet above sea level and is visible from many parts of the Los Angeles basin. The Observatory is the best vantage point for observing the world-famous Hollywood Sign.
Griffith Observatory is a free-admission, public facility owned and operated by the City of Los Angeles Department of Recreation and Parks in the middle of an urban metropolis of ten million people. The Observatory is one of the most popular informal education facilities in the United States and the most-visited public observatory in the world (with 1.5 million visitors a year). Griffith Observatory is a unique hybrid of public observatory, planetarium, and exhibition space.
Fulfilling the Observatory's goal of "visitor as observer," free public telescope viewing is available each evening skies are clear and the building is open. More people (8 million) have looked through the Observatory's Zeiss 12-inch refracting telescope than through any other on Earth. More than 17 million have seen a live program in the Observatory's Samuel Oschin Planetarium
Admission to the building and grounds is always FREE.
Hours of Operation:
Tuesday – Friday12:00 noon – 10:00 p.m.
Saturday – Sunday10:00 a.m. – 10:00 p.m.
MondayClosed