ACTIVITIES
The Ivy
Visit Website
113 N Robertson Blvd, Los Angeles, CA 90048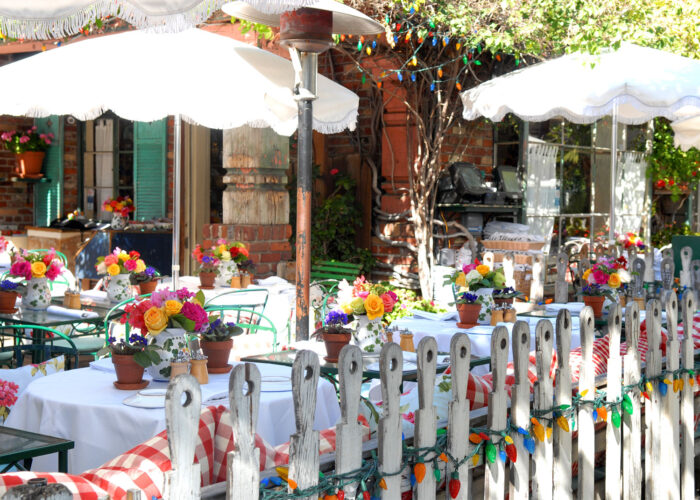 Upscale California
The Ivy is a restaurant on Robertson Boulevard in Los Angeles known for celebrity sightings and papparazzi. It serves nouvelle American cuisine "in a prettily decorated series of country-cottage rooms, with a flowery outdoor terrace" close to International Creative Management whose employees and clients can often be found dining at the celebrated restaurant.
This trendy LA spot is known for it's celebrity sightings. And if you want to be treated as if you're a Hollywood star, then visit the Ivy and let the staff show you all about it!
The Ivy is located on N. Robertson among a spattering of trendy boutiques, shops and restaurants in the heart of Beverly Hills just west of the Beverly Center. Upon approaching the restaurant, you'll first notice the patio seating area that is reminiscent of a beautiful flower garden enclosed with a white picket fence, and covered with shade trees twinkling with multicolored lights. There are flowers everywhere; from the floral patterned seat cushions and pillows, to the dessert menu covers, to the freshly cut bouquets of brightly colored roses displayed as overflowing center pieces next to the candles shimmering on each table. The indoor decor touts American flags throughout.
Service-" from the valet stand to the host staff to the servers, the service was impeccable! Upon presenting ourselves for our dinner reservation, we were offered glasses of complimentary champagne and ushered to our seats without a moment's wait. Our servers hovered around taking drink orders, food orders, delivering food and keeping our drinks full throughout the night.  They honestly treated us as if we were celebrities! "
Food-the food is delightful and the menu had a big assortment to choose from!