ACTIVITIES
Joshua Tree National Park
Visit Website
74485 National Park Drive Twentynine Palms, CA 92277-3597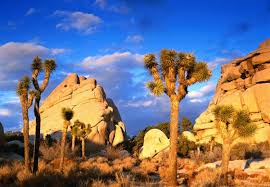 Joshua Tree National Park
Two distinct desert ecosystems, the Mojave and the Colorado, come together in Joshua Tree National Park. A fascinating variety of plants and animals make their homes in a land sculpted by strong winds and occasional torrents of rain. Dark night skies, a rich cultural history, and surreal geologic features add to the wonder of this vast wilderness in southern California. Come explore for yourself.
Joshua Tree National Park is open year-round. There are few facilities within the park's approximately 800,000 acres, making Joshua Tree a true desert wilderness just a few hours outside Los Angeles, San Diego, Las Vegas, and Phoenix. About 2.8 million visitors come to the park each year to enjoy activities such as hiking, camping, photography, rock climbing, and simply enjoying the serene desert scenery. The busy season in Joshua Tree runs from October through May.
Operating Hours & Seasons
The park is always open and may be visited anytime of year. Visitation increases as temperatures moderate in the fall, peaks during the spring, and diminishes during the heat of summer.
Joshua Tree Visitor Center
The first stop for park visitors headed towards the West Entrance. Located in the village of Joshua Tree on Park Blvd. just south of Hwy 62. Exhibits, bookstore, cafe, flush toilets onsite; public telephone and showers nearby.
HOURS AND SEASONS
Open all year.
Directions & Transportation
Joshua Tree National Park lies within a few hours' drive of several major metropolitan areas. The park is located about
140 miles east of Los Angeles,
175 miles northeast of San Diego,
215 miles southwest of Las Vegas, Nevada, and
222 miles west of Phoenix, Arizona.
Do not rely on GPS directions to navigate to or within Joshua Tree National Park! Vehicle navigation systems sometimes try to route you onto backcountry roads with ruts or soft sand that may be impassable to your vehicle.
Phone:
(760) 367-5500
You can approach Joshua Tree from Interstate 10 or California Highway 62 (the Twentynine Palms Highway).
The closest airport is in Palm Springs.
Public transportation to the park is limited. Check the Morongo Basin Transit Authority website for detailed bus schedules and routes.
The RoadRunner Shuttle buses can take you around Joshua Tree. Learn more on our Shuttle Buses page.
There are three park entrance stations:
•The West Entrance is located five miles south of the junction of Highway 62 and Park Boulevard at Joshua Tree Village.
•The North Entrance is in Twentynine Palms, three miles south of the junction of Highway 62 and Utah Trail.
•The South Entrance near Cottonwood Spring is an access point along Interstate 10, 25 miles east of Indi