ACTIVITIES
Kathleen D Catamarans
Visit Website
2 Marina Plaza, Sarasota, FL 34236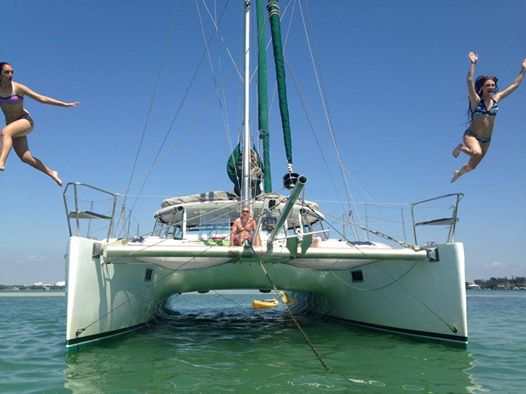 The Perfect Sailing Getaway!
Enjoy the perfect day by sailing across some of the bluest waters in the world. Forget the engine noise! Enjoy the comfort and relaxation of the wind in your hair and the sound of waves crashing.
Our vessels are American built Maine Cat 30s or Australian built (licensed for US service) Seawind 1000. All are extremely strong, lightweight, unsinkable, stable & comfortable due to their ability to sail flat! The finish is shiny, our lines are sexy and we keep our boats spotless (that includes the bathroom)! They all have a table that seats at least six and convertible covered bridge-deck with roll up / down windows to keep the sun and chill off. Her netting out front is akin to riding on a magic carpet- out in the breeze and sunshine as the bay glides away beneath you. There simply is no better sailing than on one of our Cats along the sun coast!
Come sail with us and see for yourself that we really do offer "The Perfect Getaway" for your family, friends, business associates and closest loved ones!
Daily excursions & Private Charters for up to 11 persons
Complimentary Bottled Water & Parking!
BYOB / Pack a Picnic / Catering Available
Dolphin Watch 2hrs / AM & PM Trips / Child Pricing
They're out there and we aim to find 'em! The all time family Favorite!
Mornings: 9:30-11:30am
Afternoons: 12:30-2:30pm
Late Afternoons: 3:30-5:30pm
Add a 3rd hr @ discount- See our "True Sail"
Includes complimentary bottled water & parking
BYOB / Pack a Picnic / Catering Available
Adult- $55  Children (under 12) – $50 (Includes tax)
Sunset Sail 2hrs / Depart 2 hrs. before Sunset
Sunset Sailing is the Florida tradition!
Grab your best gal or pal and enjoy a beautiful Gulf / Sarasota Sunset! Pack an appetizer, BYOB, sit back and relax while Mother Nature puts on the evening's show.Includes complimentary bottled water & free parking.
Departs 2 hours before Sunset
All seats- $55 (Includes Tax)
Big Pass Adventure 1/2 day / Child Pricing
Our best value!
1/2 day sailing, swimming, shelling, kayaking- includes lunch on board. We sail out of the pass and anchor at the tip of Crescent Beach on Siesta Key. We also do some Gulf Sailing and work our way back into the pass and Sarasota Bay. We also can stop at the beach on Lido Key inside the Pass for kayaking through the Mangrove Tunnels and swimming and shelling at Lido beach! Be sure to keep a watch out for Dolphins, Manatees, Rays, Turtles and Seabirds! Relax, unwind, & see Florida as it is meant to be seen: From the water!
Spring & Summer Mornings: 9am – 1pm
Spring & Summer Afternoons 1:30 – 5:30pm
The Big Pass Adventure includes: Lunch (sub sandwiches)
KayaksIce & Bottled water
Free parking
Snorkeling equipment
Bottled Water & Parking
BYOB
Additional Catering available
Please- Remember to pack a towel, a hat, dry clothes and your sunblock!
Adults $89 Children (under 12)- $79 (plus 7% FL tax)
Located in Downtown Sarasota
@ Marina Jack (Dock E / Slip 20 Next to "Flying Fish Fleet")
Reservations:
FL-941-896-6400
dellkathleen@gmail.com