ACTIVITIES
Library Bar
Visit Website
630 W 6th St #116a, Los Angeles, CA 90017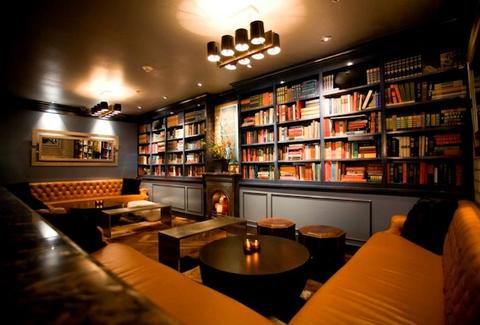 Library Theme
A CLASSIC LOUNGE.
Find this plush, hidden gem off our Historic Lobby, the Library Bar boasts an ever–changing seasonal menu. This season we're crazy about the Mule, the Negroni, the Martini, the Manhattan and the Old Fashioned. Variations on the themes include "perfect" representations to house bottled and barrel aged versions. Signature bar bites include Artisan Charcuterie & Cheese boards and our highly addictive Library Dogs [kobe beef hot dogs, smothered in our housemade giardinera].
Libations and bar bites served daily starting at 5pm.
A fully stocked bar dressed with an array of fresh fruits and seasonal vegetables and herbs.
– LOCATION –
630 W. 6th St. 116A
Downtown, LA, CA 90017
– HOURS –
Daily  3pm – 2am
Happy Hour Mon – Fri 3pm – 7pm
NIGHT WORK
MONDAYS: Trip Digital (Soul & Hip Hop)
TUESDAYS: DTLA Tuesdays
WEDNESDAYS: Vibes with DJ Twist
THURSDAYS: DJ Double O
FRIDAYS: Lounge Party with DJ Francesca Harding
SATURDAYS: Lounge Party
SUNDAYS: Favorite Shows (TWD, GOT, Etc)