ACTIVITIES
Loco Charlie's Mexican Grill
Visit Website
1751 N Sunrise Way, Suite F5, Palm Springs, Greater Palm Springs, CA 92262-3408.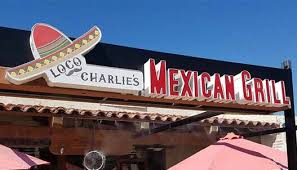 Authentic Mexican Flavor
Backed by the zestiest top-notch ingredients and a talented kitchen staff that knows its way around the classics, Loco Charlie's cooks up nutritional meals that have all the flavors you could ever want. Everything is made fresh daily here and we offer a Salsa Bar to our customers.This is the ideal gathering place for friends and family any day of the week, the inviting and colorful atmosphere providing just the right vibe for any lunch or dinnertime rendezvous.
Whether you're from Palm Springs or just passing through, Loco Charlie's is well worth your time. Swing by and try the multitude of specialties such as the shrimp enchiladas, street taco platter, burrito ranchero, beef fajitas, carne asada fries and more. The affordable prices also mean these high-quality foods are great for repeat visits throughout the week. Come in and taste our delicious seasonal specials such as turkey tacos and enchiladas and our sweet corn, pork, and tomato tamales. Visit us for a delicious breakfast, from traditional American to Huevos Rancheros, providing the perfect breakfast pick me up.
CONTACT INFORMATION
Address: 1751 N Sunrise Way, Suite F5, Palm Springs, CA 92262
Phone: 760-832-6474
Email: lococharlies@gmail.com
Hours of Operation
Mon-Fri9:00 AM – 9:00 PM
Sat-Sun8:00 AM – 9:00 PM