ACTIVITIES
Mike & Anne's
Visit Website
1040 Mission St, Suite 102, South Pasadena, CA 91030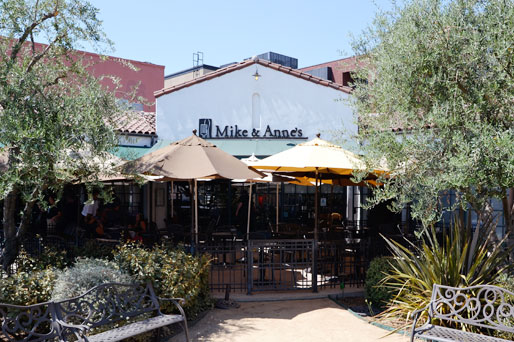 American Classics
Back in the day, Mike & Anne's was a sweet American eatery that opened in the space next to an antique shop in a Mission Street mini-mall. Here, the good people of South Pasadena demonstrated that a slow-braised pulled pork sandwich and a heaping plate of spaghetti Bolognese ultimately trump a mid-century modern casual chair. As a result, what used to be the antique shop (if memory serves me right), became Mike & Anne's bar, a snappy destination for some tasty mixology before climbing on the Metro Gold Line.
Mike and Annes serves American-style cuisine in the middle of South Pasadena district. Children are more than welcome to dine at this restaurant, where there's something for everyone on the menu. On warmer days, you can take advantage of Mike and Annes' al fresco patio seating.
The restaurant accepts reservations, so it's simple to snag a table in advance. Great place to bring the whole family with great food and a business casual dress code. If you're in a hurry, place an order for pickup instead.
Diners at Mike and Annes will be happy to know that free parking is always available. For those who prefer to travel by bike, Mike and Annes is a great option due to its generous bike parking options.
Menu items at Mike and Annes tend to be mid-priced, so expect to plop down about $30 per person to dine here. The restaurant is known for its showstopper brunch, but they also offer lunch and dinner. No matter what type of American dish you're in the mood for, Mike and Annes has a great selection of dishes to choose from.
Hours of Operation: 8:00 AM – 10:00 PM
(626) 799-7199