ACTIVITIES
Millennium Biltmore Hotel
Visit Website
506 S Grand Ave, Los Angeles, CA 90071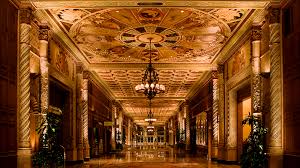 Fine Cocktails
Smeraldi's Restaurant
"Delicious Italian cuisine"Ashley K.Los Angeles, USA,Aug 2018
Named after the Italian artist Giovanni Smeraldi, who masterminded the Spanish and Italian Renaissance frescoes throughout the opulent hotel, Smeraldi's trattoria is one of the best places to eat in L.A, offering fresh handmade pizza and pasta, savory Italian appetizers and mouth-watering main courses ideal for family-style dining.
Kick off your morning with a delicious breakfast, featuring a sumptuous buffet and a variety of tempting à la carte menu items. Refuel mid-day with a variety of delectable lunch options that are served daily, including family-friendly traditional salads, sandwiches and burgers. Monday to Friday, a lunch buffet and pasta bar with prepared-to-order sauces are popular among LA locals.
Biltmore L.A Hotel's Executive Chef Daniel Fennessy is a great believer in starting with the best ingredients – a philosophy that has gained him a reputation for consistently delivering high quality fare, and has led to many industry-wide praise and recognition including Wolfgang Puck's Food Co. Chef-of-the-Year and Hospitality awards.
Bugis Street Brasserie
"Their Singapore Laksa is AMAZING!!!"Albus W.Los Angeles, CA,May 2017
Founded on the legend of seafaring spice traders and inspired by the original Bugis Street vendors in Singapore, Bugis Street Brasserie brings the taste bud tantalizing and authentic, handcrafted flavors of Singapore, Malaysia, and China to downtown Los Angeles. Sample dishes like spicy Singapore Laksa, Penang Char Kway Teow, savory Szechuan Beef and Fish Maw Soup.
Private dining rooms and large-party menus are available upon request at this top L.A restaurant.
Gallery Bar and Cognac Room
"Go back in time and enjoy a classic cocktail . . . "Enrico G.Los Angeles, CA,Jul 2017
Discover why locals love one of downtown L.A.'s favorite historic watering holes, Gallery Bar and Cognac Room, where carved angels elegantly grace the granite bar. Enjoy wine, beer and unforgettable specialty mixes, such as popular favorites, French Kiss and Cucumber Mango Cosmopolitan. Sample light fare like the classic prawn cocktail in our nostalgic Gallery Bar, or retire to the Cognac Room with its comfortable couches and memorabilia-filled cabinets, where you can enjoy tapas, fresh and baked oysters, salads, or appetizers.
Rendezvous Court
"Oasis of calm…"DebJoTu.USA, USA,Jun 2017
Rendezvous Court Café
Dine in surroundings that include Moorish-carved wood ceilings, gold-leaf accents, a rose marble fountain, and an enormous Baroque stairwell. This historic location has set the scene for film and television, including Blow, Daredevil, 24, and Glee.
The ideal spot for grab and go light sandwiches, salads, fruit, snacks, specialty coffees and teas. Open daily from 6am to 5pm.
Afternoon Tea at Rendezvous Court
Our renowned weekend traditional Afternoon Tea offers an assortment of delicious sandwiches, scones, and pastries, and of course, a pot of fine-blended custom tea.
Afternoon Tea service available Saturdays and Sundays, from 2pm-5pm. Reservations are recommended.