ACTIVITIES
Myakka River State Park
Visit Website
13208 State Rd 72, Sarasota, FL 34241, USA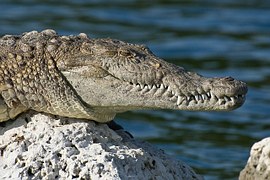 One of the oldest and largest state parks, Myakka protects one of the state's most diverse natural wildlife habitats.
Welcome to Myakka River State Park
The Myakka River, designated as a Florida Wild and Scenic River, flows through 58 square miles of wetlands, prairies, hammocks, and pinelands. Visitors can enjoy wildlife viewing from a boardwalk that stretches out over the Upper Myakka Lake, then take to the treetops with a stroll along the canopy walkway.
The park´s river and two lakes provide ample opportunities for boating, freshwater fishing, canoeing, and kayaking; a boat ramp provides access to Upper Myakka Lake. Hikers can explore trails that cross large expanses of rare Florida dry prairie. Scenic lake tours are offered daily on the world´s two largest airboats. Safari tram tours of the park´s backcountry are offered from mid-December through May. Full-facility campgrounds and primitive campsites are available. Five palm log cabins, built in the 1930s by the Civilian Conservation Corps, have been modernized for comfortable lodging. Located nine miles east of Sarasota on State Road 72.
Myakka State Park History
Prior to 1850, the Myakka River was the Asternal River on English maps. A Seminole Indian reportedly told a surveyor in the 1850's that the name of the river was "Myakka". The translation of the word Myakka, is unknown. Between the 1850's and the 1930's, cattle grazed on dry prairie, a vast land of grasses, forbs, palmetto and other low shrubs with thousands of scattered wetlands. In 1910, Bertha Palmer, a progressive business woman from Chicago, came to Sarasota and bought a vast amount of land. Meadow Sweet Pastures which was located very near the Myakka River was one of her purchases. (Visit Ranch House Road inside the park for more information about the Palmers). In 1918, Mrs. Palmer passed away. In the 1930's, during the Great Depression, over 17,000 acres of the Palmer estate was purchased by the government to develop Myakka River State Park as part of President Roosevelt's New Deal. The New Deal was intended to boost the economy and spirit of the American population during these dark years. More than 5 million young men around the country were employed to help preserve our natural areas. This employment allowed them to earn money to send home to their families. Myakka is one of 8 Florida State Parks developed by the CCC (Civilian Conservation Corps) during the 1930's. When the United States entered World War 2, the CCC was disbanded as all efforts were needed for the war. Myakka River State Park was formally dedicated in 1941 and was officially opened for the public. Many of the CCC structures built in Myakka are still used today. The Visitor Center, two picnic pavilions, 5 rental log cabins and roads are just a few of the things which are still enjoyed by visitors.
Park Entrance Fees:
$6.00 per vehicle. Limit 2-8 people per vehicle.
$4.00 Single Occupant Vehicle.
$2.00 Pedestrians, bicyclists, extra passengers, passengers in vehicle with holder of Annual Individual Entrance Pass.
$60.00 Bus Tour Fee (30+ people).
$2.00 per person, Bus Tour Fee (less than 30 people).
Camping Fees:
$26.00 per night, plus tax, plus a non-refundable $6.70 reservation fee. Includes water and electricity.
Florida residents who are 65 years of age or older or who hold a social security disability award certificate or a 100 percent disability award certificate from the Federal Government are permitted to receive a 50 percent discount on current base campsite fees. Proof of eligibility required.
Cabin Fees:
$70.00 per night, plus tax, plus a non-refundable $6.70 reservation fee.
Primitive and Youth Camping:
$5.00 per person, primitive camping.
$1.00 per youth, youth camping.
$5.00 per adult/chaperone, youth camping.
Tour Fees:
Boat Tour Fees: $14.00 per adult, $7.00 per child age 6 to 12, and 5 years old and under are free. No tours on Christmas Day.
Tram Tour Fees: $14.00 per adult, $7.00 per child age 6 to 12, and 5 years old and under are free. Tram only runs Dec. 16th thru May 31st. No tours on Christmas Day.
Cycle rentals rates:
Beach Cruiser
0-2 Hours          $15.00
2-4 Hours          $25.00
4+ Hours           $40.00
Tandem (2 Persons):
0-2 Hours          $30.00
2-4 Hours          $50.00
4+ Hours           $80.00
Boat Rental Rates:
Canoe:
2-3 Adults or
2 Adults & 2 Children under 12 Years of Age
0-1 Hour          $20.00
Each Additional Hour $5.00
Single Person Kayak:
0-1 Hour          $20.00
Each Additional Hour $5.00
Activites:
Bicycling                                  Cabins/Camping
Kayaking & Canoeing           Birding
Visitor Center                         Hiking/Nature Trail