ACTIVITIES
The Palladium
Visit Website
6215 Sunset Blvd, Los Angeles, CA 90028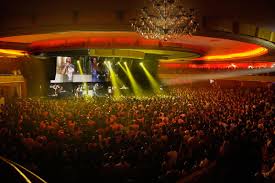 Concert Theatre
Hollywood Palladium
This site is not affiliated or sponsored by Live Nation, Ticketmaster or Hollywood Palladium. This site links to resale tickets to events at Hollywood Palladium. See Disclaimer.
The world famous music venue, Hollywood Palladium can be found on Sunset Boulevard, Hollywood.
Hollywood, California is famous around the world for turning dreams into reality for thousands of dreamers. Amongst the many popular places in Hollywood is the Sunset Boulevard which has been referenced in countless movies and books.
The Hollywood Palladium is a great indoor entertainment venue that has huge acts and names grace its state throughout the year.