ACTIVITIES
Palm Springs Aerial Tramway
Visit Website
One Tram Way, Palm Springs, CA. 92262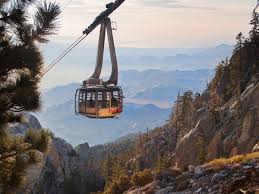 Palm Springs Aeial Tramway
The Palm Springs Aerial Tramway—the world's largest rotating tram car—travels over two-and-one-half miles along the cliffs of Chino Canyon, transporting visitors to the pristine wilderness of the Mt. San Jacinto State Park and Wilderness Area. During this ten-minute journey, tram cars rotate slowly, offering spectacular vistas of the valley below.
At the Tram's Mountain Station—elevation 8,516 feet and 30 degrees cooler than the desert floor—dine in two restaurants, enjoy viewpoints, hike over 50 miles of trails, watch two documentary films or visit the natural history museum. Overnight camping available with advance reservation.
In the winter (snow conditions permitting), enjoy snowshoeing or cross-county skiing in an Alpine wonderland.
Meeting and banquet space is available for private events of up to 275 people.
Download FREE mobile tour in the App Store/Google Play.
Holiday Hours of Operation
The first Tram up is at 8am on the following holidays:
Martin Luther King Jr.'s Day Weekend
President's Day Weekend
Memorial Day Weekend
Independence Day
Labor Day Weekend
Thanksgiving Day Weekend
Christmas Week
New Year's Day
*Annual Maintenance Closure
The Tramway will be closed for annual maintenance from September 10 through September 30 with a tentative re-opening date of October 1, 2018.
Regular Hours of Operation
Monday – Friday – First Tram up 10:00am
Saturday, Sunday and Holidays – First Tram up 8:00am
Daily – Tram down 9:45pm
Cars depart at least every half hour.
Summer Hours of Operation
May 26 through September 1, 2018
Monday – Thursday – First Tram up 10:00am
Friday, Saturday, Sunday and Holidays – First Tram up 8:00am
Sunday – Thursday – Last Tram up at 8:00pm, Last Tram down 9:45pm
Friday & Saturday – Last Tram up 9:00pm and last Tram down at 10:30pm
Cars depart at least every half hour.
*Prices and Hours Of Operation Are Subject To Change Without Notice
Children under 16 years must be accompanied by an adult of 21 years or older.
Sorry, pets are not allowed.
(888) 515-TRAM (8726) Toll free in the U.S. & Canada (760) 325-1449