ACTIVITIES
Palm Springs Villagefest
Tahquitz Canyon Dr and N Palm Canyon, Palm Springs, CA 92262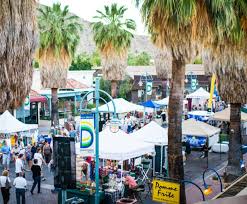 Village Fest
(June – September) 7:00PM-10:00PMEvery Thursday evening, Downtown Palm Springs transforms into the Palm Springs VillageFest, also known as the Palm Springs Street Fair.  At the VillageFest, you will experience a diverse array of artists, artisans, entertainers, and purveyors of fresh fruits and veggies, flowers, jewelry, snacks and sweets. Add all that to the great shops, restaurants, clubs, and entertainment venues located along World Famous Palm Canyon Drive – and the result is one of Southern California's most popular weekly events: VillageFest!
Cost:
Free
VillageFest takes place in downtown Palm Springs on Palm Canyon Drive every Thursday night. The street is closed to vehicular traffic and is transformed into a festive, pedestrian street fair. The perimeter of the event consists of Indian Canyon Drive to the east and Belardo Road to the west. Vendor booths are set up on both sides of the street, and visitors are able to stroll through the traffic-free event.
VillageFest oversight is provided by the Palm Springs VillageFest Board and managed by the VillageFest Staff. The VillageFest Board is comprised of residents who possess retail or tourism expertise. Members are appointed by the Palm Springs City Council and serve, uncompensated, for a three year term.
The Thursday night street fair featuring arts, crafts, food, and entertainment!
October through May
6:00 PM to 10:00 PM
Dog Friendly!
Where:
Tahquitz Canyon Dr and N Palm Canyon, Palm Springs, CA 92262
June through September
7:00 PM to 10:00 PM
CALENDAR
VillageFest every Thursday
September 6 @ 7:00 pm – 10:00 pm
VillageFest every Thursday
September 13 @ 7:00 pm – 10:00 pm
VillageFest every Thursday
September 20 @ 7:00 pm – 10:00 pmSee more events…
OFFICE INFO
Department of Parks & Recreation
VillageFest Office
Office: 760-320-3781
Fax: 760-416-3799
401 S. Pavilion Way
Palm Springs, Ca 92262
Faith.Roche@palmsprings-ca.gov
Office Hours
Monday – Thursday 9:00AM- 5:00PM
Closed Friday