ACTIVITIES
Perch
Visit Website
448 S Hill St, Los Angeles, CA 90013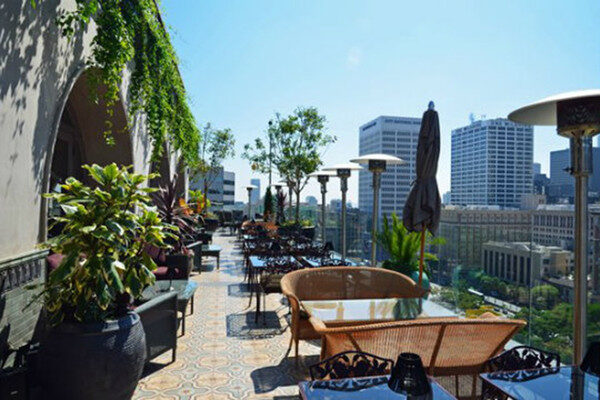 Rooftop Bar
enue
PERCH LOS ANGELES is an elevated resting place. A French inspired rooftop bistro that offers unobstructed views of Downtown Los Angeles that makes it feel as though you are floating at the skyline. PERCH offers two outdoor fireplaces, various fire pits, lounge and table seating both indoors and out.
Ambiance
The ambiance at PERCH LOS ANGELES is incredibly unique at every turn. As you arrive to the 15th floor restaurant, bar & lounge you are greeted by beautiful antique inspired furniture, plush lounge couches and incredibly detailed woodwork, which will transport you to French inspired restaurants of old. You can choose to enjoy the fresh, intimate indoor bohemian ambiance or be seated at one of the outside patios with ornate fireplaces, lush landscaping, breathtaking views of the Downtown L.A. skyline and a direct view to the stars above. If you are in search of a more intimate lounge experience, simply move on up to the 16th floor rooftop lounge with ornate furniture and cozy fire pits to enjoy delicious cocktails, great music and an unparalleled 360 degree view of Downtown L.A. PERCH is indeed the premier dining and nightlife destination in Los Angeles where you can indulge in a most comfortable, unpretentious and upscale atmosphere that features live jazz inspired music, while enjoying a sumptuous French cuisine dinner, followed by DJ's that will keep you swaying throughout the evening.
Cuisine
PERCH Executive Chef Gerardo Benitez has created a playful menu inspired by French culinary classics utilizing the freshest of seasonal ingredients. The menu consists of items that are meant to be shared as well as meals that stand boldly alone.
Bar
Whether you want to be inside the main bar under the 30 foot ceilings surrounded by vintage artwork and sweeping archways of windows with a wrap around balcony or on the rooftop with unobstructed views of Downtown Los Angeles, you will be able to experience a selection of specialty drinks that focus on simple, fresh Parisian inspired cocktails, a wine program that boasts over 25 wines by the glass, a crafted beer selection or even rare selection of Cognacs, Armagnac's and French Cordials.
Age 21 and over after 9:00pm
PERCH does not allow minors on the premises after 9:00PM. Dinner Reservations after 7:00PM requires all guests to be 21+ and valid ID required upon arrival.
Valet Parking is offered at $10 Monday through Sunday.
As a courtesy, we hold reservations 15 minutes past the scheduled time, after which you may be placed at the top of our cancellation list for the next available seating.
Our dress code is upscale Casual- No gym or beach attire including tank tops, baseball caps and flip flops permitted after 4:00PM.
Our rooftop bar is located above our restaurant level. Our rooftop bar offers a skyline view of downtown Los Angeles and Signature Cocktails! Our rooftop bar offers drinks only and strictly 21+ (A valid ID is required)