ACTIVITIES
Phillippi Creek Oyster Bar
Visit Website
5353 Tamiami Trail, Sarasota, FL 34231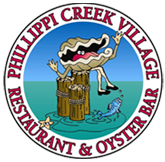 Located in a tropical setting, this family restaurant features a multiple choice of fresh local seafood daily.
Outdoor and indoor waterfront dining. Come by land or by sea. Best Oysters in Town.
If you looking for seafood in Sarasota, Bradenton, or Venice you should take the extra time and drive to Phillippi Creek if you want the best seafood and the funnest atmosphere around the Sarasota area.
Sarasota's Best Restaurant So you're in beautiful Sarasota and want a place to eat amazing seafood but have a date that is insisting on a succulent steak? Head over to Phillippi Creek Village Restaurant & Oyster Bar where both of you will find something to tempt your palates.
If your looking for Oysters, Lobster, Fresh Fish, or a good time come to Phillippi Creek Seafood Restaurant for the best food and the most fun you have have while dining in Sarasota.