ACTIVITIES
Pink's Hot Dogs
Visit Website
709 N La Brea Ave, Los Angeles, CA 90038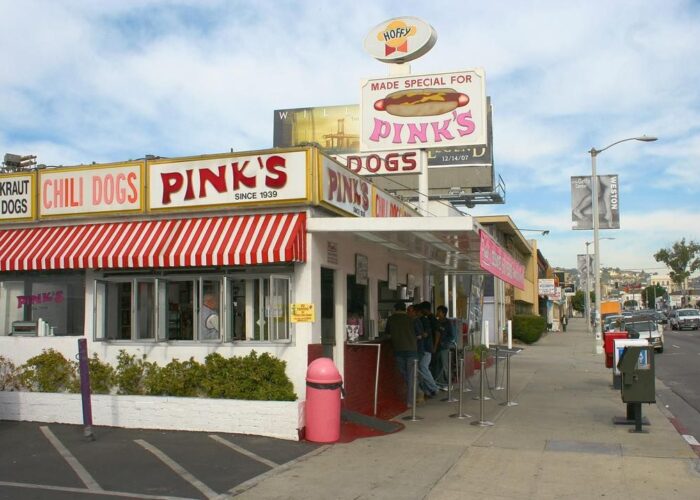 Famous Hot Dogs
Pink's was founded by Paul and Betty Pink in 1939 as a pushcart near the corner of La Breaand Melrose.  The Great Depression was still having an impact on the country, and money was scarce. People could purchase a chili dog made with Betty's own chili recipe accompanied by mustard and onions on a steamed bun for 10 cents each. As business grew, thanks to Betty's chili and the custom-made Hoffy-brand hot dogs with their natural casings, so did Pink's. The family built the current building in 1946 at 709 North La Brea Avenue in the Fairfax District in West Los Angeles across the street from the Hollywood district in Central Los Angeles.
Pink's has named several newer menu items after Hollywood celebrities, some of whom can be seen at the restaurant.  There are many signed celebrity photographs hanging on the walls inside; some celebrities have signed more than one photo. The celebrity-named hot dogs are often versions actually ordered by the person in question, such as the "Martha Stewart Dog" with mustard, relish, onions, chopped tomatoes, sauerkraut, bacon, and sour cream. Another is the "Rosie O'Donnell Long IslandDog", which is a 10″ dog topped with mustard, onions, chili and sauerkraut. The "Huell Howser Dog" is a standard chili dog with two of the regular hot dogs on a single bun while the "Ozzy Spicy Dog" named for Ozzy Osbourne features a Polish sausage, nachocheese, American cheese, grilled onions, guacamoleand chopped tomatoes.
A smaller selection of hamburgers are available, and desserts are a choice of coconut or marble cake.
There is usually a long line of customers in front despite the lack of parking in the area. The often slow-moving line is viewed by some as part of the attraction at Pink's, especially on Friday and Saturday nights when the stand becomes packed with club and concert goers.
Pink's has its own parking-lot attendant, even though parking is free.[8] According to the menu, Pink's original signature chili dog in stretched, 10 in (25.4 cm) form remains the stand's top seller.
Hours of Operation:
Sun-Thurs 9:30am – 2:00 am
Fi- Sat 9:30 – 3:00am
(323) 931-4223