ACTIVITIES
Queen Mary
Visit Website
1126 Queens Hwy, Long Beach, CA 90802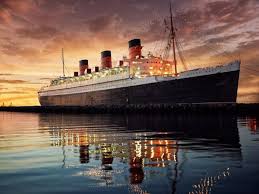 Queen Mary 
From the time her construction began in 1930 in Clydebank, Scotland, the Queen Mary was destined to stand in a class all her own. The Queen Mary had set a new benchmark in transatlantic travel, which the rich and famous considered as the only civilized way to travel. She quickly seized the hearts and imaginations of the public on both sides of the Atlantic, representing the spirit of an era known for its elegance, class and style. For three years after her maiden voyage, the Queen Mary was the grandest ocean liner in the world carrying Hollywood celebrities like Bob Hope and Clark Gable, royalty like the Duke and Duchess of Windsor, and dignitaries like Winston Churchill.  
On October 31, 1967, the Queen Mary departed on her final cruise, arriving in Long Beach, California, on December 9, 1967. She has called Southern California her home ever since. The Queen Mary is now a floating Hotel, Attraction and Event & Wedding Venue, home to three world-class restaurants and an icon in Southern California.
QUEEN MARY HOURS
Dining
Sir Winston's Restaurant & Lounge
Hours: MONDAYS: CLOSED, TUESDAYS – THURSDAYS: 5pm – 9pm, FRIDAYS & SATURDAYS: 5pm – 10pm, SUNDAYS: 5pm – 9pm
Complimentary Parking. Please pull a ticket and bring it with you to Sir Winston's. (Subject to change)
Dress Code: Smart-Casual attire required
562-499-1657 | More Information | Reservation
Chelsea Chowder House & Bar
Hours: DAILY 4PM – 10PM
Lounge: SUN – THURS 4 – 10PM, FRI – SAT 4 – 11PM Happy Hour: MON – THURS 4 – 7PM (subject to change)
562-499-1685 | More Information | Reservation
Promenade Cafe
Breakfast
6:30am – 11am
Lunch
11am – 4pm
Parking: Self-parking is $8 with validation and valet parking is $15 with validation (up to 3 hours).(Subject to change based on Special Event schedule here.)
Reservations:
Promenade Cafe will not be accepting reservations at this time and is currently on a first come first serve basis.
Directions: Click here for directions to the Queen Mary.
Map: The Queen Mary can get confusing. Download our map and bring it with you!
Champagne Sunday Brunch
SUN 9:30AM – 2PM
562-499-1606
Observation Bar & Art Deco Lounge
SUN – 11:30AM – 12AM/ MON – THUR 11:30AM – 12AM / FRI & SAT 11:30AM – 2:00AM| Happy Hour (MON – THURS): 4PM- 7PM
562- 499-1740
Midship Marketplace
DAILY 6AM – 6PM
562-499-1714
Queen Mary Tours & Attractions Hours
For guided tours – please proceed to level 4 (Promenade Deck) and proceed to the Tour Center| Map
*Please arrive 10 minutes early for all tours.
Diana: Legacy of a Princess A Royal Exhibition
Hours: Available Sunday through Saturday: 11AM – 6PM
The Glory Days Historical Tour
Hours: EVERY DAY at 11:15AM, 12:15PM, 1:15PM, 2:15PM, 3:15PM, 4:15PM, 5:15PM & 6:15PM and takes approximately 1 hour. (*Note: Hours may vary.)
Haunted Encounters
Hours: Available daily at 11:30AM, 12:30PM, 1:30PM,  2:30PM, 3:30PM, 4:30PM, 5:30PM, & 6:30PM and takes approximately 1 hour.  (*Note: Hours may vary.) | More information
Dining with the Spirits
Hours: Fridays & Saturdays at 7PM
Paranormal Investigations
Hours: FRI-SAT 11PM, SUN 10PM. At least a 2.5-plus hour tour.