ACTIVITIES
The Roxy
Visit Website
9009 Sunset Blvd, West Hollywood, CA 90069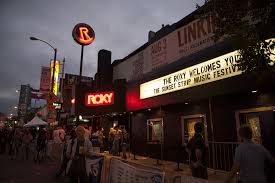 Nightclub
VITAL PERFORMANCES & RECORDINGS
The Roxy Theatre is a legendary music venue located on the Sunset Strip in West Hollywood, California. Regardless of its West Coast locale, it is known by music lovers all over the world.
HISTORY
In 1973, Lou Adler and Elmer Valentine, with help from original partners, David Geffen, Elliot Roberts and Peter Asher, opened the now world famous music venue. These successful men got together to create The Roxy after they witnessed one too many venues neglect, mistreat and deceive several artists. Their dream to open a state of the art venue where artists of all musical genres felt at home became a reality on September 20th, 1973. The grand opening was celebrated by a 3 night performance by Neil Young. The first year featured headliners such as Cheech and Chong, Jerry Lewis, The Temptations and Frank Zappa. In the passed 40 years, The Roxy has been a launching platform for aspiring artists and a home for those that are well established in the industry.
Simultaneously in 1973, Lou and Elmer opened a Private Membership Only lounge above The Roxy called On The Rox. This lounge was a personal hang out for the owners and their collective friends. As popularity of this exclusive club grew, it became one of the hottest hangouts for celebrities on the Sunset Strip. Proof of paid membership was displayed by a key. Not only did it give the clientele a feeling of comfort but proprietorship as well. OTR has been a safe haven for such VIPs as John Lennon, Alice Cooper, Neil Young and Robert De Niro, just to name a small handful. Today, OTR is for the 21 and over crowd that want to experience an intimate evening with some of the greatest up and coming acts in LA.
9009 West Sunset Blvd
West Hollywood, CA
PARKING
LIMITED VALET PARKING
Enter between The Roxy &
The Rainbow Bar and Grill
PARKING IS ALSO AVAILABLE
9000 Sunset Blvd ( directly across the street ) and other lots within a few blocks of the venue
8981 Sunset Blvd
9022 Sunset Blvd ( next to
Shamrock Tattoo )