ACTIVITIES
Runyon Canyon Park
Visit Website
1854 North Fuller Avenue, Los Angeles, CA 90046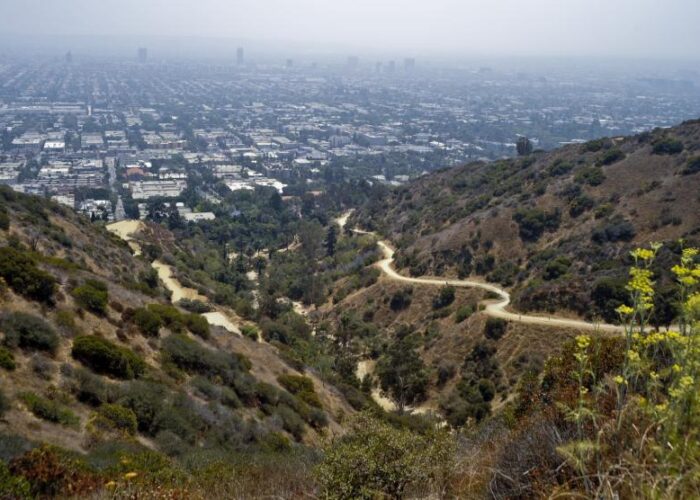 Runyon Canyon Park
Runyon Canyon Park is a 130 acre park two blocks from Hollywood Boulevard, just west of the 101 Hollywood Freeway extending north to Mulholland Drive. There are entrances on Fuller Avenue, Vista Street, and off Mulholland. Since 1983 when it was acquired by the City of Los Angeles with a grant from the Santa Monica Mountains Conservancy, it has been managed by the City of Los Angeles Department of Parks and Recreation as an 'Urban Wilderness.' It is a rare example of wild chaparral with its drought-resistant evergreen trees and shrubs only a stone's throw from the hustle and bustle of the Hollywood community.
The park has a wide fire road running up from the Vista entrance, as well as more demanding trails taking the walker up to a number of magnificent viewpoints: from these the Hollywood sign and the Griffith Observatory can be seen to the east; downtown (7 miles away to the south east); Park La Brea and Wilshire Boulevard (3 miles) and the Baldwin Hills which obscure LAX 11 miles away, are all due south. The Pacific Ocean (12 miles) and Catalina Island can be seen on clear days to the south west
Runyon Canyon Hiking Tour. Escape the confines of urban LA life by enjoying the arboreal environment with a guided hike at Runyon Canyon Park. Runyon Canyon is a 130-acre park located in Hollywood with magnificent viewpoints like the historical Griffith Observatory and the iconic Hollywood Sign.
Where do you park to hike Runyon Canyon?
To get to the trailhead: From Hollywood Boulevard, travel 0.2 miles west of La Brea Ave. and head north on North Fuller Ave. Head north across Franklin Ave. and begin searching for street parking. The entrance to Runyon Canyon Park is at the top ofFuller Ave. Street parking can be scarce.