ACTIVITIES
Saddle Ranch Chop House
Visit Website
8371 Sunset Blvd, West Hollywood, CA 90069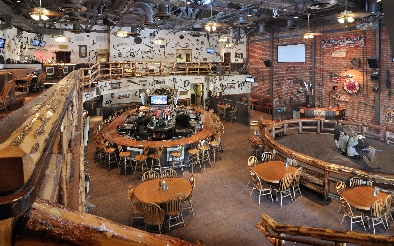 Steaks, Rock N Roll
Saddle Ranch Chop House was founded in September 1999. Saddle Ranch Chop House is a destination restaurant where guests stay long after their plates have been cleared to enjoy a one-of-a-kind entertainment experience with friends and family.
Our concept is "Rock Meets Western", which comes to life in every aspect of the construction, décor and operation of these unique restaurants.  The rustic, ranch-style buildings are constructed of wood and stone, and decorated with western props and memorabilia, merging the feel of an Aspen ski lodge with the style of an old Western saloon, complete with faux balconies and saloon girls.
Every Saddle Ranch Chop House has a large outdoor patio with stone campfire pits where guests can roast their own s'mores or enjoy a glass of wine by the fire.  Inside each Saddle Ranch is a large, oval-shaped bar in the center of the dining room and, of course, our signature mechanical bull providing endless entertainment to diners.  Serving up home-style cooking and down-home hospitality, our staff will make your group feel like you are dining at a close friend's table.
The first Saddle Ranch Chop House opened its doors on the Sunset Strip in September 1999, to rave reviews, tons of press, and hoards of people lining up to enjoy the delicious Saddle Ranch cuisine and ride the only mechanical bull in Los Angeles.
From the second it opened, the Saddle Ranch concept was a huge success and a favorite of Hollywood. Television shows, books and magazines began developing story lines around the restaurant almost immediately. Saddle Ranch and its infamous mechanical bull have been featured on countless shows including "Sex and the City," "Desperate Housewives," "American HIdol," "Six Feet Under," "VH1's Rock of Love" and numerous more.
Hours of Operation:
11:00am – 2:00am
Thesaddleranch.com