ACTIVITIES
Sarasota World Rowing Championship
Visit Website
Nathan Benderson Park, Sarasota, FL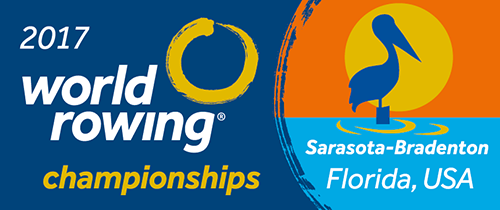 Welcome to the 2017 World Rowing Championships, Sarasota-Bradenton.
This fall, from September 23-October 1, 1,700 athletes and thousands of spectators from more than 60 countries will descend on "America's Course," Nathan Benderson Park in beautiful Sarasota-Bradenton, Florida. The Local Organizing Committee and its chairmen can't wait to welcome the world to paradise.
Multi-day Passes
8 Day Passes: September 24 – October 1
4 Day Passes: September 28 – October 1
2 Day Passes: September 30 – October 1
You can select as many tickets as you prefer. Before check out you will be prompted to create an account so that you can log in at any time to retrieve your ticket information or purchase additional tickets. Make sure to register with the correct information as the purchased tickets will be sent to the registered email address as e-tickets. You will have the option to either print your ticket or present it upon entry on your smartphone. Children age 2 and under do not require a ticket for entry.
If you have a promo code, you can apply it at the beginning of your ticket selection or right before check out.
If your confirmation email does not immediately show up in your email inbox, be sure to check your spam/junk folder.
If you have any questions regarding ticket sales please contact us.
Current available ticket options:
For safety purposes, we regret to inform you that no personal lawn furniture is permitted on the grounds.
Grandstands
Get close to all the unforgettable action from our covered, Grandstand seats. Here, you'll be just feet from the finish line, as rowers make their final push for gold.
Beach Seats
Can't make it to Sarasota-Bradenton's beautiful beaches during the Championships? Then check out our Beach Seats. Here, you'll have a front row view from the park's white, sandy beach strand located along the final 500 meters of the 2,000-meter course. In-seat beverage service is available.
Championship Pavilion
Looking to chill during the Championships? The Pavilion area is an exclusive seating area along Championship Row, Nathan Benderson Park's west bank. Enjoy the lounge-like atmosphere, while sipping on a cold beverage from our cash bar. Food will also be available for purchase.
General Admission
Witness history by purchasing a General Admission ticket to the 2017 World Rowing Championships. This ticket will grant you access to watch the races live and experience the Fan Fest. (Note: During races, General Admission tickets are standing room only. To purchase seats, please see other ticket options.)
Private Luxury Suites
Located along Championship Row, Nathan Benderson Park's west bank, these fully furnished, air-conditioned suites are our most coveted and exclusive seating and viewing option. Entertain business partners or current & prospective clients. Reward associates or organizations supported by the company's charitable giving initiatives. Invite family & friends to support your rower. For pricing and details click here.
Daily ticket sales to begin June 1, 2017