ACTIVITIES
Sherman Deli & Bakery – Palm Springs
Visit Website
401 E Tahquitz Canyon Way Palm Springs, CA 92262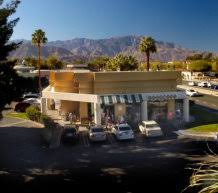 Deli, Bakery
Since opening our first location in 1963, Sherman's has become a landmark in the desert. A New York- style family restaurant
Sam Harris & sister, Janet still owned and operated by Sherman Harris' son, Sam and daughter Janet.We offer an extensive menu for breakfast, brunch,lunch and dinner reminiscent of a New York style deli.
Bread and desserts are baked fresh daily. And, don't miss breakfast featuring fresh baked cinnamon bread French toast. We also serve all American breakfasts like huge 8-egg omelets with thick bacon! Our Famous Sandwich Board offers more than 40 favorites including Hot Corned Beef piled high on rye bread served with Potato Salad or Cole Slaw. Fine wines and beer are also available.
Deluxe dinners really give our chef a chance to show off. Try Rotisserie Chicken – tender and tasty half chicken roasted fresh daily, or Roast Brisket of Beef served with potato pancake, or BBQ Baby Back Ribs – the local's favorite! Be sure to check out our Daily Specials including our world renowned Southern style Fried Chicken. All dinners include choice of Soup or Garden Salad, Baked Potato, Cottage Fries or Homemade Mashed Potatoes, and Mixed Vegetables.
If you enjoy early dining (ahead of our usual dinner rush) we reward you by serving our regular, top quality dinner at a special low price! Available year round from 4pm to 6pm and available until 7pm July through October.
Open from 7:00 am to 9:00 pm daily at both locations!
SHERMAN'S DELI & BAKERY
Two Convenient Locations
Palm Springs
401 E. Tahquitz Canyon Way
760-325-1199
Palm Desert
73-161 Country Club Drive
760-568-1350
With two great locations – Palm Springs and Palm Desert – it's easy to make Sherman's your favorite place!