ACTIVITIES
Siesta Market
Visit Website
205 Canal Road, Sarasota, FL 34242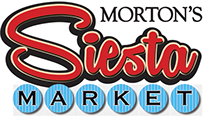 Siesta Key's go-to market for over half-a-century!
The finest market on Siesta Key! We offer groceries, provisions, fresh produce & floral, beer, fine wines & cigars, cheeses, fresh meat & seafood, and plenty of prepared foods including a full service deli, hot meals & soups, rotisserie chicken, desserts and more!
YES! We have shore fishing supplies and hardware!
You do not have to leave the key to enjoy fresh produce, fine wines, and prime steaks. And now, you don't even have to leave the building! Our customer service representatives will shop your grocery orders and deliver them to your door.