ACTIVITIES
Sun Country Tours
Visit Website
531 SW 13TH ST, BEND, OR 97702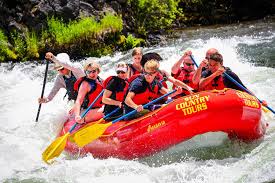 No Bend vacation is complete without a few hours spent paddling, fishing, floating, splashing, wading, rafting, or gazing upon the spellbinding aquatic wonders dotting our high desert landscape. From the power of the mighty Deschutes River to the shimmering solitude of a Cascade mountain lake, there's bound to be a body of water that calls to you.
Answer the call with your fly rod in hand, or plop yourself in a float tube and drift 'til your stress melts away. Craving an adrenaline rush? Plunge your kayak into the rapids at the Bend Whitewater Park, or opt for the opposite with a peaceful paddle in a rented canoe. Try standup paddleboarding in the city Outside magazine dubbed the world's top SUP getaway, or book a thrilling once-in-a-lifetime whitewater raft adventure for the whole family.
They say water is life. Add some to your Bend getaway and learn what it feels like to live your best one.
PHONE: 541-382-1709
WHAT TO WEAR
Wear:
• Clothes that can get wet.
• Shoes that stay on your feet. River sandals, water shoes or athletic shoes that you don't mind getting wet work well. No flip flops.
• On warm days, bathing suits, T-shirts and shorts are fine.
• On cool days, wear layers of synthetic clothing that wick moisture. Exercise clothes made of Nylon or polyester work well. DO NOT wear cotton on cooler days.
• We offer complimentary Splash Suits, water resistant tops and bottoms that fit over your clothes, for our rafting trips on cooler days.
Bring:
• You may bring a towel and change of dry clothing if you wish for the Big Eddy Thriller.
• You should bring a change of dry clothing for the McKenzie Magic, North Umpqua Premier and All Day Adventurerafting trips to make your ride back to town more comfortable.
• You may bring non-alcoholic beverages and snacks.
• We do not sell bottled water due to our concern for the environment, but we do provide water for your refillable bottles, and also sell re-usable bottles in our retail shops.
• Anything you bring with you and want to leave on the transport vehicle will be secure during your rafting trip. Our drivers lock the vehicles if they have to leave them.
541.382.6277