ACTIVITIES
Thai Smile Palm Springs
Visit Website
100 S Indian Canyon Drive Palm Springs, CA 92262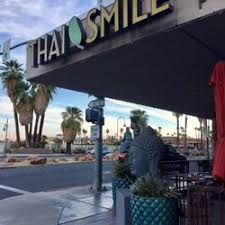 Thai, Casual Dining, Family Dining
Thai Smile Restaurant Has Been Recognized As A Thai Restaurant That Constantly Offers Healthy, High Quality, And Flavorful Thai Cuisines To The Residents And Visitors Of Palm Springs Since 1991.
Thai Smile Restaurant Was Created By Yim, Priddy Prayongyam. "Yim" Means "Smile" In Thai, And Yim Always Smiled To Her Customers. So The Restaurant Was Named After Her And And Her Character.
Thai Smile restaurant has been recognized as a Thai restaurant that constantly offers healthy, high quality, and flavorful Thai Cuisines to the residents and visitors of Palm Springs since 1993.
Thai Smile restaurant was created by Yim, Priddey Prayongyam. "Yim" means "smile" in Thai, and Yim always smiled to her customers. So the restaurant was named after her and and her character.
In 1996, Yim's son, Piriya Prayongyam, popularly known as "Mai" and his wife "Noi", Nicha Charnchalerm, who also ran a Thai restaurant in Boston, moved to Palm Springs to help Yim operate Thai Smile.
Yim's original recipes bring the special tastes of Thai food the to the customers with bit of Americanized flavor to tone down the spiciness.
However at Thai Smile Palm Springs, customers can always ask us to prepare your dishes the way you like it, be it authentic Thai flavors, the vegetarians, or to fit your dietary restrictions.
To ensure the high quality and consistency of the food flavors, Mai continues to follow Yim's recipes and personally trains the chefs himself. He also makes sure that his wait staff are competent, courteous and well equipped to answer all the menu questions.
Yim's character- "Smile", will always be the symbol and personality of our restaurant to be shared with all our customers as it has from the beginning.
Please visit Thai Smile restaurant when you're in town. You will enjoy the atmosphere that embraces the beautiful Thai culture, the delicious food and the Smiling service from all of us here at Thai Smile Palm Springs.
Phone 760.320.5503
Hours
Sun- Sat 11:30 am – 9:30 pm