ACTIVITIES
Tonga Hut
Visit Website
254 N Palm Canyon Dr Palm Springs, CA 92262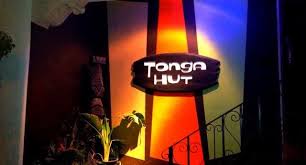 International, Casual Dining
Tonga Hut Palm Springs houses a neo-retro Tiki bar (pouring classic "island drinks" like Old Skool Zombie and Voodoo Juice) as well as an adjoining Polynesian/Cantonese restaurant called The Hideaway. Items like meat-skewer pupu platters are served on carved wood dishes, and unlike L.A.'s Tonga Hut, this menu even features authentic Pacific cuisine like purple yam mash (a more tasty tourist-friendly version of the starchy Hawaiian staple poi).
The restaurant's booths display photos and memorabilia from Palm Springs' rich Tiki past, as a nod to the historic Desert Polynesia legacy the Tonga Hut is now part of. As the first full-fledged Tiki bar to open in Palm Springs in decades, Tonga Hut is at the forefront of a Desert Polynesia renaissance wave of local Tiki art and culture festivals, as well as a newfound scholarly appreciation for this often-derided mid-century style of architecture and design.
Be sure to ask to see The Tonga Room, a special secret space here at The Tonga Hut Palm Springs here that you can access via a telephone booth. Make sure to ask your waiter or host to have a look during your visit. It's awesome and you can book it for parties and special occasions on a future visit!
Call to reserve the Secret Room | (760) 322-4449
HAPPY HOUR
Tuesday thru Friday 5 – 7pm
HOURS:
MON – CLOSED
TUES – THUR 5 PM – 12 AM
FRI –  5 PM – 2 AM
SAT –  2 PM – 2 AM
SUN –  2 PM – 12 AM