ACTIVITIES
Townshend's Bend Teahouse
Visit Website
835 NW Bond St, Bend, OR 97703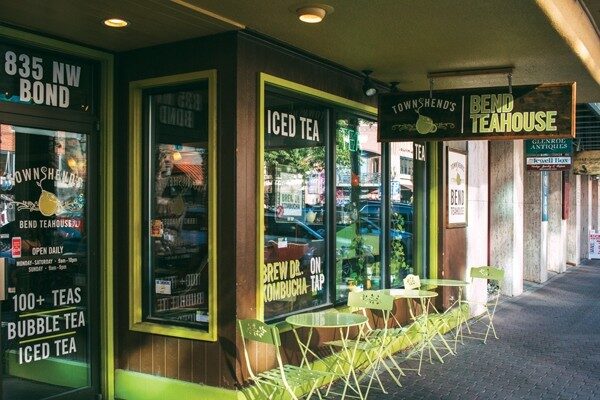 Our Tea
We love nothing more than fresh, expertly-crafted loose leaf tea, which is the only kind of tea we offer our customers.
The world's most meticulous and well-traveled tea buyers are able to form on-the-ground relationships with the families who farm and produce our teas. Each of them specializes in a particular region, and then imports the tea directly to us. Having a trusted partner directly at the source insures that not only are our teas abundantly flavorful, but that tea producers are treated fairly for their trade. Our multiple teahouses allow us to move through our tea quickly, and you will always be receiving the most recent batch of tea for the year.
History
Townshend's Tea Company sprung from the idea that the various ways in which people enjoy great tea should be brought together under one roof, in a comfortable and inviting community-oriented space.
"Tea" can mean so many things. Our teahouses offer a thorough list of teas from all categories (black, green, white, chai, herbal) as well as beverages with tea as the main ingredient: Our bubble tea (boba, if you prefer) is made with slow-cooked tapioca pearls and real fruit concentrates. And our kombucha brand, Brew Dr. Kombucha, which grew from the kitchens of our teahouses in 2008, is still made today with the same great tea blends we developed for service at our teahouses.
Community
Since the company was founded, one of our passions has been to join emerging neighborhoods where we could serve as a positive gathering space for the community. Drinking tea has been a way to share a moment and an experience with others for millennia.
Through our teahouses we share that same simple yet cherished goal. We serve over a million cups of tea every year and we try to remember that every one of them is a part of someone's day that is looked forward to—either for the beverage itself or the people it is shared with. We hope you have a chance to visit our teahouses and find it a lovely addition to your day.
Sustainability
Much like other businesses of the modern era, Townshend's believes in having as little impact on our natural environment as possible. We don't think what we do is special; it's just how we live. Nevertheless, here is a list of our current sustainability practices:
Financial support of the non-profit Ecology in Classroom & Outdoors (ECO), which brings outdoor science-enrichment lessons into grade schools
Composting all compostable byproducts including tea leaves, kombucha SCOBYs, paper towels and food waste
Diligence in recycling everything we use that can be recycled
Powering our kombucha delivery fleet with fuel made locally and sustainably by SeQuential Biofuels
Purchase of renewable wind energy at our teahouses and kombucha brewery
Hours;
Mon-Sat
9am – 10pm
Sun
9am-9pm
Phone;
541.312.2001