ACTIVITIES
Zuma Beach
Visit Website
30050 Pacific Coast Hwy, Malibu, CA 90265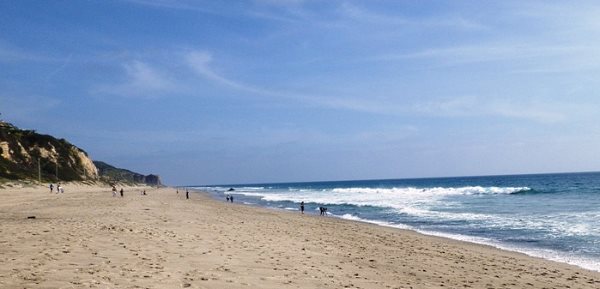 Welcome to Zuma Beach! The best beach in LA County in California, wide open clean sand, mild waves, plentiful parking, life-guards, food stands and bathrooms.  Swim in the summer, watch wildlife in the winter, or swim too if you're hardy. Eat hotdogs and build sand castles.  Have a great day at the beach at Zuma Beach! Sand Surf and Fun!
Zuma Beach is right next to Malibu, right next to Westward Beach, and right next to the Dume.  Everything for an exciting day out whether you want to climb a rock, surf, swim or just relax in the sun.  Check out the nearby restaurants for full sit-down meals with great views over the sea.  Hike the ridge, or watch the Dolphins and Seals.  It's all hear at your beach, Zuma Beach!
Zuma Beach is one of the most popular beaches in Los Angeles County. The 4-mile expanse of sand draws families and surfers, sun bathers and anglers. While it can be crowded on weekends, there always seems to be enough space for everyone.
Ample facilities make the beach especially attractive. Restrooms are spaced along the beach front. Coldshowers and changing rooms are available. Lifeguard stations are set at regular intervals along the beach and staffed during daylight hours. Lifeguards are part of the Los Angeles County Lifeguard Servicewhich maintains a 24-hour sectional headquarters at Zuma Beach.
Zuma Beach Parking
Parking lots at Zuma Beach are managed by Los Angeles County Department of Beaches and Harbors. More than 2000 parking spaces are available in a chain of 12 parking lots along the beach front. Access to all the parking lots is via the entrance gates off Pacific Coast Highway at the south end of the beach.
Parking Fees:
winter $3 – $8
summer $3 – $10
Find details at LA County Dept. Beaches & Harbords Parking Rates
No overnight parking is available at Zuma Beach. Free parking is available for vehicles displaying a legal disabled placard or license plate on non-holiday weekends at lots that are staffed or un-gated such as Zuma.
There are a limited number of highway shoulder parking spaces along the Pacific Coast Highway.
Waves at Zuma can be dangerous, breaking close to shore, and rip currents are prevalent. Swimmers should use caution.