Asking the Right Questions When Finding A Property Manager
Hurray for you, you've finally done it. You saved up your pennies and bought your very own vacation home! You sit down with the calendar, mark out your vacation dates for the next year, and then realize, for the most part, your home may do a lot of sitting empty. So, you figure you'll give it a try at the vacation rental business to help pay for some of those added expenses you've just accumulated. The problem is, like many second homeowners, you don't live anywhere near your vacation home and you realize you need help managing the overall process. As a result, you begin the quest of seeking the professional services of a vacation rental management company.
"Wow, who knew there were so many vacation rental companies!" you'll soon exclaim as you read offerings from large international chains, to local mom and pops, and their ALL promising to offer you the best service while maximizing your investment. How do you choose?
Sorting through all of your options while making the best decision for your personal needs can be tough. We've put together some questions which we suggest are important elements in selecting the right vacation rental support team. In the end, you need to find a company that will is best suited for your individual need.
---
What to Look For
An In-depth understanding of the city and surrounding area of where your home is located. What draws tourism to your area? What are the events, activities, and points of interest that will change the rates and demand to your area?
Up-to date website and marketing strategies. If a Vacation Rental company relies heavily on classified ads in the local newspaper, they probably won't be able to keep your home occupied. Local marketing efforts need to be coupled with global strategies to keep your vacation rental full of guests.
Staff that are ambitious, experienced and excited about the company and the hospitality industry in general. If employees lack commitment, experience and motive, how will they be able to provide you the personalized experience you deserve?
An engagement with the local community in which your home is located. Those who are interested in learning about and engaging with the local culture, may be more inclined to respect your community and ensure they are providing responsible services.
Engagement with the larger vacation rental and/or hospitality industry. A company who engages within the vacation rental industry on a global scale is more likely to continue to innovate and implement the latest technology, resources, and practices available to homeowners and managers.
If you expect the management company to manage your property, then the management company needs to have a local office with physical staff that can physically visit and take care of your home and your guests. A company who depends on third party vendors to provide the services to your home, may not be able to fully execute the level of quality to which they commit.
Pictures and listing descriptions on other properties that are interesting, detailed, and accurate. Does the management company speak about their other properties that make you excited?
---
Commissions
Property Manager's will charge anywhere between 10 – 35% percent of Gross Rental Revenue depending on variety of factors including location, home size, and breadth of services. When shopping for a vacation rental manager, remember, you often get what you pay for. If you are looking for the most inexpensive service, don't be surprised if they don't provide the highest quality experience.
---
20 Questions
How many properties are in your portfolio?
How many properties are managed in my region?
Will I have a personal owner representative that will be available to answer any of my questions? If so, how many properties do they have in their portfolio?
Who is responsible for registering and submitting local, and state taxes?
How and when will I receive my payout for each reservation?
How will you handle refunds or reimbursements?
Who is responsible to purchasing and replacing damaged or stolen items?
Who is responsible for the third party Online Travel Agency (Airbnb, HomeAway, etc.) fees and Bank Fees?
What can I do to improve my listing to increase my rate and occupancy? Even if you aren't interested in investing any further into your property, see what they have to say.
What is your marketing plan during seasonally low demand periods?
What are your largest lead sources?
How do you maintain communication/engagement after the guest departs?
What is the guest experience as soon as they make a reservation?
If my guests have any questions or concerns during their stay, who is responsible for communicating and answering the guest?
What are your operating hours for guests to ask questions or concerns?
What additional fees will be charged to guests?
What additional services are offered to guests? Concierge, rentals, housekeeping…
Our Owner Services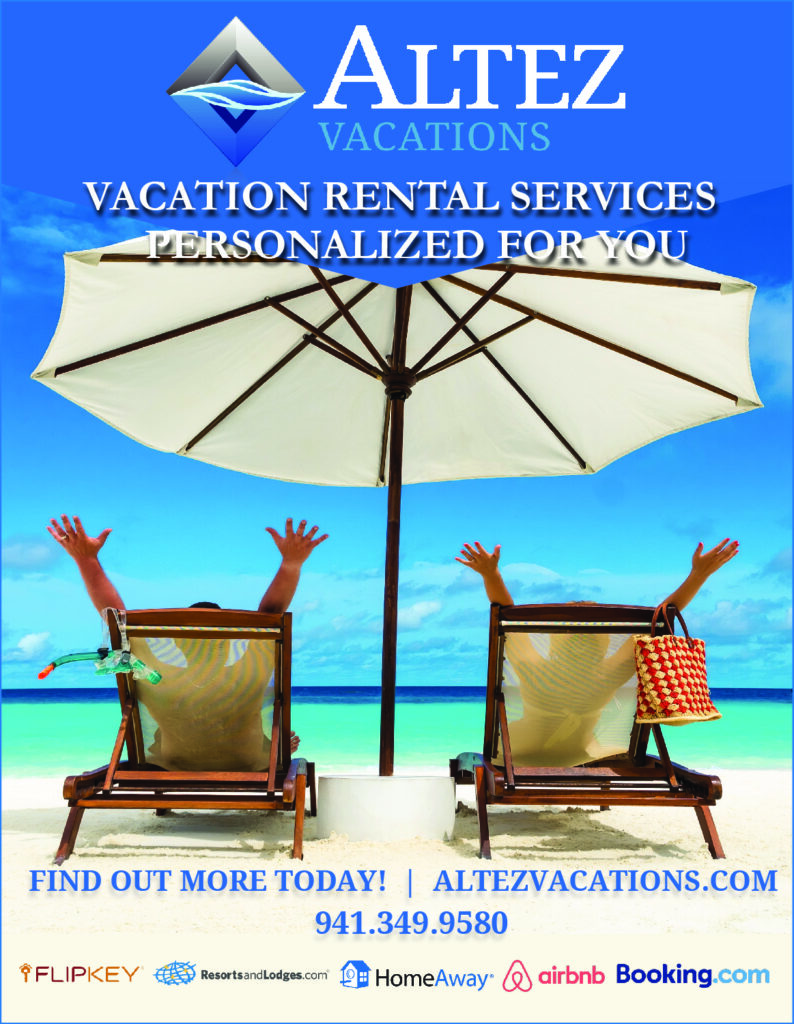 Find Out More Altez Vacations Owner Services